மாருதி இக்னிஸ் பயனர் மதிப்புரைகள்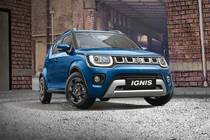 447 மதிப்பீடுகள்
Rs.5.35 - 7.72 லட்சம்*
*எக்ஸ்-ஷோரூம் விலை புது டெல்லி
மாருதி இக்னிஸ் looks பயனர் மதிப்புரைகள்
ஆல் (447)
Mileage (136)
Performance (73)
Looks (142)
Comfort (124)
Engine (93)
Interior (70)
Power (64)
மேலும்...
நவீனமானது
பயனுள்ளது
VERIFIED
CRITICAL
This is an entry-level hatchback, initial mileage is around 10 to 11 KMPL in heavy traffic. Safety okay but little weaker in build quality. Look is nice. Sufficient cabin space for a new family of 4. Head space, space is enough. I have difficulty to look around the front pillars. Small car so it is easy to drive and park. Overall good for firs...மேலும் படிக்க

Such a nice car in this segment & price range. Looks like a mini SUV. Maruti Ignis Delta variant is value for money.

The performance is outstanding, the overall look is good, and it is very easy to drive on small tough roads.

Easy to drive, more spacious, very good looking and noise-free, the value of money, and the car is very comfortable for 5 members.

The car looks good but lacks space and features. Mileage is also good. If the company would have put little effort into making the car more spacious then it would have been so perfect.மேலும் படிக்க

This car gives a good performance. Has good features, and is nice looking. Had a good experience with this car, and it is spacious as well.

Best car in this range. Sporty look with 1200cc power. I have options like Swift, Baleno, Santro, I10, but I like its look, thats why I bought it. And my experience was better for this car.மேலும் படிக்க

Overall a great car 1. Pricing was awesome 2. Performance awesome 3. Fresh Looks 4. Mileage awesome 5. Value for money car

Overall good. But the back look is awkward. Need to modify the back looks. Overall this car is good. The company should work on interior design also not so premium

See this is the car that may look very small and tiny in the world of facelifted compact SUVs. But what this car gives is good average, performance, power and low cost of maintenance. Pros: Good avg VFM, Spacious and elegant, Low on maintenance, Small turning radius. Cons: Bad suspension, Traditional Maruti dashboard which lacks design. மேலும் படிக்க

The very good car must buy car for middle class, looks nice, fun to drive better than Wagon R, by all means, it is better deal than wagon R

Overall good car. My 6 months experienced. Performance-wise, safety, durability it's a good and worth car. Looks great

A comfortable family car with a good look. Suggests to all for purchasing immediately and save money.

Awesome car. This car is better than Baleno and Swift. It has good space and looks wise it is small, but inside it space is sufficient

I had purchased the Zeta version and I love this car's features, looks, and performance. Easy to ride, well-featured interior, and beautiful looks of exterior. From the outside, it's compact but inside it's spacious and feels huge. The best car in this budget range. Don't hesitate to purchase.மேலும் படிக்க

I have researched for 2 months before purchasing Ignis Sigma plus model and could say that my decision was good. The new model look is good and you just need to add few accessories to enhance its further. Overall happy with comfort, space, mileage.மேலும் படிக்க

You will be amazed to see all new Ignis, with an updated design and loaded features. The blue color is amazing for the car. It looks very luxurious. Riding it for the last 6 months, and I feel I have made the best decision of buying the ZETA version of it.மேலும் படிக்க

Its safety rating 3 while swift achieve a safety rate of 2. The engine is good same as swift but it is better than swift only one complain backside look that's the reason it is not selling a high quantity.மேலும் படிக்க

It is a wonderful car. I have zeta and the features at this price are amazing and it is a complete family car though it looks small three can sit in the back row easily and even the boot space is quite big. It is must buy kind of thing.மேலும் படிக்க

I liked it more than other cars. Driving is very soft and easy, the gearbox is placed properly, the suspension is Ok, the front look is very smart. Too much spacious cabin than Swift. Mileage is also above 19.5 km upon Indian roads. I took experience other cars, but the driving of Ignis is very sporty and comfortable. Only need a back headrest...மேலும் படிக்க

Recently I booked Ignis from Nexa, Mysore. The vehicle front and side looking are very nice. But back looking is not satisfied. This should be a small change because of looks like 1935 old car. Nexa showroom sales executive Smt. Brunda is explaining about this vehicle very nicely. She advised and recommended this vehicle for our family budget. She ...மேலும் படிக்க

I have bought Ignis zeta class 1.2 cc in the last year, running across with 5000 km done, I don't have any complaint. Ignis car is the best car for the hilly urban area especially in the northeast region, engine performance and gear proportion ratio are good, it has styling features and look beautiful, avoid parking problems and garaging, enough bo...மேலும் படிக்க

It has been 3 years since I got the Ignis Alpha Top Model Manual. It is a good city car with the best in class gearbox and clutch. But if you are looking for a vehicle which is comfortable for long road trips than this one is not for you. In Bombay roads, you can feel everything inside the cabin. and at the end of you will feel exhausted.மேலும் படிக்க

Pros Mileage Looks Safety Nexa service Cons Stiff suspension. Rear seat angle and no rear ac vent.

This is a very good car for those buyers who wants a Suv under 10 lakh. This car has high ground clearance, suspension, comfortable seats, fog light, and a beautiful sporty look. If you want more than this then you have to spend more than 10 lakh for a car which is not possible for every person.மேலும் படிக்க

In 3 years, drove for 40000KM and till now no issues faced. Most smooth car in the midbudget. Stylish in looks. Highly Recommended.

IgnIs 2020 facelift looks good on the outer (front only), but inside there is no premium Nexa feel. Seems like it has the worst suspension in the market, especially in the rear seat. The new model seems lighter and less stable than the older BS4 versions. Looks like they have cut costs left right and center. Recommend not to cross 80kmph.மேலும் படிக்க

Great car, highly affordable Ignis, value for money, looks compact but with excellent space inside, go for it.

Descent looks with impressive fuel efficiency. Residual value might be a flaw and to summarize its a "simple city car"













Not Sure, Which car to buy?
Let us help you find the dream car
கருத்தில் கொள்ள கூடுதல் கார் விருப்பங்கள்
இக்னிஸ் மாற்றுகள் இன் பயனர் மதிப்பீடுகள்
பயனர்களும் பார்வையிட்டனர்

Are you Confused?
48 hours இல் Ask anything & get answer
4 சலுகைகள்
மாருதி இக்னிஸ் :- Benefits அப் to Rs. 36,0... ஒன
11 நாட்கள் மீதமுள்ளன
car insurance companies பிரபலம்
புது டெல்லி இல் *எக்ஸ்-ஷோரூம் இன் விலை
×
We need your சிட்டி to customize your experience