மாருதி ஸ்விப்ட் பயனர் மதிப்புரைகள்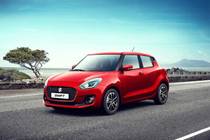 Rs. 5.19 - 8.02 லட்சம்*
*எக்ஸ்-ஷோரூம் விலை in
புது டெல்லி
மாருதி ஸ்விப்ட் விலை பயனர் மதிப்புரைகள்
All (3324)
Mileage (974)
Performance (468)
Looks (958)
Comfort (912)
Engine (460)
Interior (410)
Power (350)
Price (373)
மேலும்...
நவீனமானது
பயனுள்ளது
VERIFIED
CRITICAL
Good car for a small normal family give good milage provide good features in basic price some manufacturing defects in a new car like window sounding and body gaps and diesel engine produce too much sound but overall good car for daily uses and small family's. Back door handle feeling some time not good and uncomfortable too. மேலும் படிக்க

Best car in this price with good mileage and quality.

The best car worth its price, pretty cool as its name, works great, bought it in the year 2012 and it still works great eye-catching design. pros: Affordable for small(4) middle-class family. No cons because it's stylish and can be a beginners car at an affordable price and good mileage and simply treasures a lot of memories with it. மேலும் படிக்க

Best car but some issues, this is a good car in the price range but I am concerned about the built quality of the car, once improved I'll be fully satisfied.

Overall good for the price it is offered, new Swift got great looks and specs. Still scope for improvement and automatic option is really pathetic.

What my Swift offered me is happiness all around the car, with the price, with the style, with the dealing, with the features and definitely with the mileage. It's just as if I can take it anywhere without any hesitation, because of its new-gen looks I know I will standout weather in the road or in a marriage reception its sporty looks and comfort ...மேலும் படிக்க

It's a really good car because the price compared to the same segment, Swift costs lesser. I am getting a mileage of 20 km/l.

Great design and affordable price range. Nice sporty looks and good interior. Thanks to the Maruti Suzuki team.

Best best best car under this price, an affordable cheap car but what a fabulous and fantastic car this is.

A PREMIUM SEGMENT HATCH BAG WITH LOTS OF FEATURES IN AFFORDABLE PRICE #KINGOFINDIANROADS.

It is a very excellent car but sometimes I find that built quality is not good as compared to other cars in the segment but there is comfort in both the city and on the highway. Most of the time I drive this car in city or villages(off road) and I never feel uncomfortable or irritated but again I found built quality a bit low.. Hope Maruti Suzuki w...மேலும் படிக்க

Swift! Well as the name suggests something fast and that it is in the price at which the car not only is budget friendly but also an embark of comfort and technology. The swifty smooth feedback of steering embarks a sense of racing theme in the driver. The lightweight of the car with a powerful engine gives a rocket launch to the car. That's why th...மேலும் படிக்க

Best car to maneuver in the city, Also capable in the highway, with its fuel-efficient engine and price bracket. And feels very light to drive with new 2019 Aerodynamically designed Swift; It is always Swift to Swift. மேலும் படிக்க

It's come with loaded features compare to other cars in the same segment. Comfort: 5(headrest, good seat, leg headspace) Driving: 4 (crop, trip meter, Features: 4 (ABS, EBD, climate control, airbag etc,) Price: 5 Mileage: ~20 good மேலும் படிக்க

This new 3rd generation car has really increased the bar. The great ideas put in with more of what market needs and want and placing a right price tag so that it's a reasonable price for a commoner to purchase. What attracts more is the exterior design and the interior space that's what more Indian people look for and it has been successful in doin...மேலும் படிக்க

We can say that this is the perfect hatchback car in this price range. Performance is awesome.

It's probably the best car I would have bought in this price range. Everything from power to handling is awesome.

Nice car with good features, value for money in this price, must go for a test drive, you are going to like this car. Maruti's trust you're getting with the car.

Very good car at this price and segment. Also, this car provides a very interesting feature.

It's an awesome car in hatchback car and price is good. Also looking so cool and performance awesome.

A good compact car with the given Price point!! Maruthi is known for its low service cost even the quality of service is not that great.. safety features are a bit lagging in the car but for the city drive it is one of the best there is! Info tangent is also good with the Kenwood speaker's fine when compared to other cars a better staring and gearb...மேலும் படிக்க

Maruti Swift is a nice car, I love to drive it as it has good mileage, good interior, and perfect sporty looks. It is good to drive in the hilly area, the steering is also good for the roads of mountain reign. Maruti should also give alloy wheels in this car but overall it is the best car at this price.  மேலும் படிக்க

First thing and the main thing the safety in this car is zero. This car gives awesome mileage which is a wonderful thing to an Indian because of the oil prices in India. But the thing is you are risking your life to save your money. The worst built quality, as usual, the Suzuki offers because they are making the car using plastics to increase the m...மேலும் படிக்க

Great car at this price. But interior switches should be changed. The car should be heavier and it should be a safe car.

Pepy car, good handling and good features at that price. But its very light sometimes it feels unstable at high speed.

It is the best car at the best price. It gives you a smooth driving, easy to care, low maintenance, easy to handle. I just love Swift. Its front two-wheel power is amazing. Very easy to drift even in high speed. It has good pick-up too. The top amazing speed is 200. மேலும் படிக்க

The company has given us a good engine in this car but body of this car is not that much good that a man wants in his car. It has a thinner body that's why in safety terms this car is not that much good but this is the best car at the best price. மேலும் படிக்க

Best hatchback under this price. Powerful engine, New design, and better colours along with great features.

I Have Swift LXi. Spacious and lovely maneuverability. Love to drive this car. Excellent control and great interior. Worth of its price.













Not Sure, Which car to buy?
Let us help you find the dream car

Are you Confused?
48 hours இல் Ask anything & get answer
கருத்தில் கொள்ள கூடுதல் கார் விருப்பங்கள்
ஸ்விப்ட் மாற்றுகள் இன் பயனர் மதிப்பீடுகள்
*புது டெல்லி இல் எக்ஸ்-ஷோரூம் இன் விலை
பயனர்களும் பார்வையிட்டனர்
1 சலுகை
மாருதி ஸ்விப்ட் :- Consumer ऑफर அப் to Rs... ஒன
15 நாட்கள் மீதமுள்ளன
போக்கு மாருதி கார்கள்
எக்ஸ்எல் 5

Rs.5.0 லட்சம்*

அறிமுக எதிர்பார்ப்பு: feb 20, 2021

futuro-e

Rs.15.0 லட்சம்*

அறிமுக எதிர்பார்ப்பு: feb 10, 2022

சோலியோ

Rs.6.0 லட்சம்*

அறிமுக எதிர்பார்ப்பு: feb 22, 2022
car insurance companies பிரபலம்