மாருதி இகோ பயனர் மதிப்புரைகள்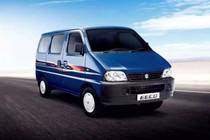 Rs. 3.8 - 4.95 லட்சம்*
*எக்ஸ்-ஷோரூம் விலை in
புது டெல்லி
மாருதி இகோ பயனர் மதிப்புரைகள்
All (155)
Mileage (39)
Performance (21)
Looks (27)
Comfort (51)
Engine (23)
Interior (10)
Power (27)
மேலும்...
நவீனமானது
பயனுள்ளது
VERIFIED
CRITICAL
This is the best car with best price. I feel very good when I'm driving in this car. And, this is good for family purpose cars.

Good car for business purpose and better for city ride and the car is better for a small family to visit in long-distance. This car is best for all people.

Maruti Eeco is the best car for business purposes and more benefits for a family because of the full space car.  A very nice car for medium class people.

This car is a family purpose and this car's engine is very smooth and the car perofermence is very good but safety wise very low...

Best car in this price range with high performance, best pickup, but no airbag, best vehicle under 5 lakhs.

Good looking, standard safety features, mileage also good and low maintenance cost. Good riding quality with low price as 7 setter car, is my favourite.

The car is easy and smooth and safety. The car is an easy comfortable and amount is very less.

Eeco is the best car for the village and for low budgets. Eeco gives the best mileage. But it is not comfortable and safe.

It is a superb performing car and low-cost maintenance vehicle, the average it gives me in the city is of 13kmpl.

I have a Maruti Suzuki Eeco. This is the best 7 seater car at the lowest price. It is very useful for Business as well as Family purposes. It is the best multipurpose car with lots of space in it. மேலும் படிக்க

Performance is good. Low cost. Low maintenance and services. Family package car. Exterior and interior are very good.

I have a Maruti Suzuki Eeco 7 seater. This is a good car at the lowest price. Satisfied maintain cost, and in this budget, Maruti Suzuki gives you a 7seater car. but AC is not available in 7 seater variant of Eeco, brakes are not good, power windows are not available, airbag not available and the biggest problem is mileage. மேலும் படிக்க

Low maintenance, very good average, huge space as compared to the other cars of the same segment. I drive the 2016 model and 155000 km driven but never got problems with this car, good for a family as well as for commercial use. The only disadvantage is that no diesel variant is available. The comfort level is a little issue. The interior also need...மேலும் படிக்க

I like this car. It is a very beautiful car and the black colour is nice.

Maruti Eeco is a perfect family car, I like the suspension it is perfect for long drives.

It has nice storage capacity and great features. Also available in AC or 7seater model. This car can be also driven on CNG and has a great efficiency of carrying the load. It comes in with a better engine. Highly recommended. மேலும் படிக்க

The thing about the car is the great fuel economy and the safety features are very good.

Good for a long drive and tour and space is more than normal car.

 Nice mileage. Smooth and comfortable car.

I own this car since last 4+ years. The overall experience is 6 out of 10. The good marks go to its pickup with 700 kg plus. The shocking thing is when I was driving this car with an almost full load of people and the things kept on Carrier, there was a sudden sharp turn, I couldn't get time to reduce the speed and thought it will top for sure. But...மேலும் படிக்க

First I would like to clarify that this review is entirely based on my experience with the vehicle Maruti Eeco. Being a mechanical and marine engineer, It was obvious that I had to do complete research before purchasing a perfect hatchback. So, I compared many cars before buying this one and CarDekho really helped me out by giving all the correct s...மேலும் படிக்க

Maruti Eeco has the best boot space, which no other car offers in this price range, Comfortable seats, but can be afflictive for some people in long journeys, The Air conditioning of the car is simply average and does not give that cool air for summers when temperatures rise above 35 degrees, The pick up and power of the car is good and cant expect...மேலும் படிக்க

It is the cheapest 7 seater car. Maruti cars have low maintenance so it is cheaper to maintain it. Overall built quality is very good no issues. The most important and the feature which I like is that the car is of 1200 cc which is really awesome because it is a very powerful car with such a low price. If you are looking to buy just go and buy it.I...மேலும் படிக்க

The best multipurpose car with great mileage that one can have. Maintenance cost is such that you'll envy. I can make sure that if you'll buy and you'll gonna love it.

Maruti Eco is the best van for our family and business, but it's a seven-seater variant car is not ac. I want ac vent in seven-seater variant because middle class want low budget, best latest features in the seven-seater car. In current time Indian people mostly like the seven-seater car. Eco newly updated features are very good at a very low price...மேலும் படிக்க

The car is best for the family because of the spacious interior and comfortable drive. Major features are the safety and fuel economy.

I fond the Maruti Eeco spacious. With baby seats, two more persons can be accommodated. This car is very useful when I have to pick up or drop at the airport with too many luggage. Quite handy. மேலும் படிக்க

I am very happy to buy Maruti Eeco. Its new modal comes with airbags which increase security and sensor help to make easy operation. My whole family can sit comfortably.

The car is comfortable for a family of 5. Air-conditions performance is good and the car is comfortable for long drives.

Maruti Eeco is a good car. It gives safe driving. I like this car a lot.













Not Sure, Which car to buy?
Let us help you find the dream car

Are you Confused?
48 hours இல் Ask anything & get answer
Rs.3,80,800*இஎம்ஐ: Rs. 8,299

16.11 கேஎம்பிஎல்மேனுவல்

Key Features

Rs.4,09,800*இஎம்ஐ: Rs. 8,958

15.37 கேஎம்பிஎல்மேனுவல்

Pay 29,000 more to get

Rs.4,21,500*இஎம்ஐ: Rs. 9,191

16.11 கேஎம்பிஎல்மேனுவல்

Pay 11,700 more to get

air conditioner
anti-theft device
fabric upholstery
Rs.4,95,100*இஎம்ஐ: Rs. 10,727

20.88 கிமீ / கிலோமேனுவல்

Key Features

anti-theft device
factory fitted சிஎன்ஜி kit
air conditioner
கருத்தில் கொள்ள கூடுதல் கார் விருப்பங்கள்
இகோ மாற்றுகள் இன் பயனர் மதிப்பீடுகள்
*புது டெல்லி இல் எக்ஸ்-ஷோரூம் இன் விலை
பயனர்களும் பார்வையிட்டனர்
1 சலுகை
மாருதி இகோ :- Consumer ऑफर அப் to Rs.... ஒன
7 நாட்கள் மீதமுள்ளன
car insurance companies பிரபலம்