மாருதி எக்ஸ்எல் 6 பயனர் மதிப்புரைகள்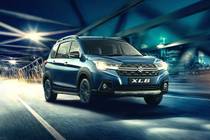 Rs. 9.84 - 11.51 லட்சம்*
*எக்ஸ்-ஷோரூம் விலை
புது டெல்லி
மாருதி எக்ஸ்எல் 6 பயனர் மதிப்புரைகள்
All (162)
Mileage (26)
Performance (13)
Looks (42)
Comfort (49)
Engine (24)
Interior (34)
Power (18)
மேலும்...
நவீனமானது
பயனுள்ளது
VERIFIED
CRITICAL
It is a good choice in the 13lakh budget. The same experience as Crysta which you gonna buy more than 23lakh.

Looks - Very Good Interior - Very Good Comfort - Very Good Smooth Driving - Very Good Safety - Good (4 Air Bags required) Tyre Size - Good (Should be Similar as Innova Crysta) Build Quality - Good (It's delicate. Should be tougher) Shock Absorbents - Very Good Height. மேலும் படிக்க

Excellent car for a family but had the worst experience with a night drive. Headlights are too poor if any vehicle comes front then nothing is visible so there is a problem with headlights. There is a correction required. மேலும் படிக்க

Milege is not as good as expected, the stylish car, sunroof is missing in the car. Alexa or SIRI are also missing.

Road presence Comfort luxury. Zero noise. Smooth 13.5 kmpl mileage in Delhi. Value for money. Features loaded.

XL6 PETROL MANUAL IS A VERY GOOD MUV CAR. MY CAR IS GIVING MILEAGE UPTO 18-19 KMPL SPACIOUS PREMIUM CAR. XL6 MUST BE IN DIESEL VARIANT. DRIVING EXPERIENCE TO ME IS, PICK UP IS SLOW COMPARE TO S CROSS. மேலும் படிக்க

Great car, the captain seat is something I just could resist not buying. Being Maruti knew safety issues mileage are taken care.

Excellent car for Indian roads, comfortable seats, the interior quality was so good and driving performance was also good.

There could be more power while overtaking, you feel the requirement of power, 10/17 alloy wheels could have been given.

Best value for money car in this category and worth for money. 

XL6 is the best car for Indian roads, comfort and superb design. All features in the mounted good looking top range.

The car is good enough. The design of the car is outstanding and absolutely best. But there are lack of safety features and the tyre size of the car is too small.

It's just a complete car in a low budget. Safety, performance, mileage, seatings color choices all are excellent.

Very comfortable and good interior. We can adjust seats according to our wish I like this car so much.

This is one of the best Maruti Suzuki can deliver in its MPV segment with low budget cost, high comfort seating in all its class, one of the best cabin noise insulation which makes car noiseless inside. The car has sufficient space, mileage, and a new look. Its petrol engine BS6 provides you great milage and smooth drive... மேலும் படிக்க

Very nice car and very comfortable to drive. The car has sufficient space, mileage and a nice look. Moreover, it is complete with Innova car but it is priceless and Innova like a luxurious car. மேலும் படிக்க

Nice car and has good mileage too but the problem is that its interior color is not good all the interior of Maruti Suzuki is black. It is so cheap we cannot complain to that and the good things are there is automatic and manual transmission and comfortable seats and many but Maruti XL6 should have a sunroof and Eco mode too and that would be great...மேலும் படிக்க

The car is good but the built quality is not good enough. The bicycle is damage from the front side. Speed of 20km/h.

A very comfortable car with pricing being the icing on the cake. Go for it if you have 4+ member family size. You won't regret it.

Best car if compared to Ertiga. Standard safety features, sporty and premium design, leather seats. Just go for it.

I am very happy to say Maruti Suzuki this is styles from the cross and very comfortable for captain seat.

My car is nice but your car looks very good nice experience and also my car is new one its new model Maruthi.

It is very good and luxurious and higher boot space. It will enough to travel 6 members and much more luggage. 

I have booked the Zeta version. And got parking cam, leather steering, wheel cover, as a freebie from the dealership. I preferred MT because automatic has no throw on the highway when we overtake. Also, the interior is so good. Best in class mileage in this segment. Also drive quality is awesome. The only thing is with 16 inches or 205/60/15 wheel ...மேலும் படிக்க

The car is a great car and is safe to drive too. The car has great mileage and the comfort offered is very well.

This is a great car, it is easy to drive and is comfortable too. The car has great safety features too, I loved the interiors too, the dashboard is black and looks great. I guess this will be the best car ever in my entire career. The car provides great performance. The engine is powerful. மேலும் படிக்க

The model of the car is nice and the milage 17.5 km per liter, its space is more and its features are nice.

It's a great car ..value for money. Stylish. Some improvements can be made such as it should have 16-inch machine-cut alloys with 215/60 R16 radials. It should have auto-dimming irvm The covers in the boot should be clipped so that do not jump and make noise on bumps. But the again overall package is great. மேலும் படிக்க

This is the best car in Maruti Suzuki. This car has many features. Please this car best car ever. This is the best car in 9 lacks to 12 lacks it is the best car in muv. I love the car. The interior Is also best the exterior is nicer if you compare with ertiga . This car will win. Bcoz the car has the best feature in. It is the best car ever in the ...மேலும் படிக்க













Not Sure, Which car to buy?
Let us help you find the dream car
கருத்தில் கொள்ள கூடுதல் கார் விருப்பங்கள்
எக்ஸ்எல் 6 மாற்றுகள் இன் பயனர் மதிப்பீடுகள்
*புது டெல்லி இல் எக்ஸ்-ஷோரூம் இன் விலை
பயனர்களும் பார்வையிட்டனர்

Are you Confused?
48 hours இல் Ask anything & get answer
2 சலுகைகள்
மாருதி XL 6 :- Exchange Bonus அப் to Rs.... ஒன
10 நாட்கள் மீதமுள்ளன
car insurance companies பிரபலம்