ரெனால்ட் க்விட் பயனர் மதிப்புரைகள்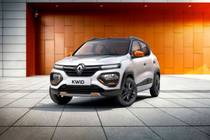 463 மதிப்பீடுகள்
Rs.4.11 - 5.66 லட்சம்*
*எக்ஸ்-ஷோரூம் விலை புது டெல்லி
ரெனால்ட் க்விட் mileage பயனர் மதிப்புரைகள்
ஆல் (463)
Mileage (116)
Performance (57)
Looks (134)
Comfort (104)
Engine (60)
Interior (39)
Power (40)
மேலும்...
நவீனமானது
பயனுள்ளது
CRITICAL
Bought on March 31st, 2021, clocked 2900 KM, till July 24th. Opted for KWID climber AMT vs Celerio, S Presso, and others coz of the following 1) Back sensor and Rear Camera 2) Ground clearance 3) Mileage 4) Infotainment system Not for luxury but to get to point A to B with some essentials Mileage: City Bumper to Bumper: around 13kmpl...மேலும் படிக்க

I purchased Kwid Climber AMT in the month of March 2021 I observe the following: 1. Car looks are extremely great 2. Interiors are ok 3. Suitable for a 2 + 2 family 4. Ground clearance is poor 5. Excellent car for city use 6. Mileage on highways is around 19-20 km per litre. However with in the city it is very poor, gives around 9 to 10 km/literமேலும் படிக்க

Best car ever. Low maintenance cost and good mileage also the best colour combination.

Horrible mileage for the automatic version. Drink petrol like water. it's a white elephant. Purchase only if you are not worried about fuel charges.

Kwid is a good-looking and stylish car in the segment with low maintenance, mileage, and with feature-loaded.

The Renault KWID has 2 Petrol Engine which comes with 799cc and 999cc. It is available with Manual & Automatic transmission. Depending upon the variant and fuel type the KWID has a mileage of 20.71 to 22.3kmpl. The KWID is a 5 seater and has a length of 3731mm, a width of 1579mm, and a wheelbase of 2422mm. That is what makes it a complete ...மேலும் படிக்க

Very bad mileage, on the highway I got the mileage of 10.5kmpl, and in the city 8- 9kmpl, Renault claims are wrong regards to mileage, I have had the car for two years.மேலும் படிக்க

The car should have given a bit good mileage, the fuel consumption is not consistent. Apart from everything, the only concern is the mileage.

Surprised by shocking amazing overall performance, mileage is outstanding. My new KWID climber is good.

Renault KWID Car is an amazing hatchback car at a low price. I am using this car and it performs very well. This car offers many good features that make it stylish and comfortable. this car offers Electronic Multi-Tripmeter, Tachometer, Leather Steering Wheel, Fabric Upholstery, Digital Clock, and many other amazing features. Also, this car gives v...மேலும் படிக்க

I bought Renault Kwid and I am really happy with the decision to take this car as its the best car that completely satisfies a customer needs. This car is just smooth in driving and gives great mileage. All advanced features make this car more reliable and comfortable for me.மேலும் படிக்க

I bought this car in 2019 and I love the mileage it gives on highways. I have a family of three and it is comfortable. My daily drive is about 25-30 km and I am happy with its performance for the cost.மேலும் படிக்க

A good vehicle with good mileage and basic safety features. Better than all other mini hatchbacks.

Best car ever.Low maintenance cost. Good in mileage. Best color combinations available and best in the budget.

It is a very good car with amazing features- 1. Charging point in the backside 2. 2 Airbags 3. The map on LED and etc. If your budget is low and under 5 lakh, high features car you thought to buy, then you can buy Kwid. Mileage is very good. I am very lucky to buy a Kwid car and I am very happy. மேலும் படிக்க

Overall, a nice experience in this price range. You can't expect more than this. Better than Alto, Eon, and Datsun Redi Go. This car has a very low service cost and has the best fuel mileage. In city 15-17kmpl and on highway 22-25kmpl.மேலும் படிக்க

It is a very good mini SUV. You will feel amazing while driving. Mileage is approx 23kmpl on the highway, also it looks good. It has an awesome pick-up and very spacious.மேலும் படிக்க

My Car mileage is 15 to 16.5kmpl and I am very disappointed with it. The performance is average and needs to improve plastic quality.

Nice and budget car for a small family it's very nice to use and it's a very compact car and gives awesome mileage.

This is the best car in this price range that I have got. Before buying I literally checked each and every car within the price range of 4.5 to 6 lakhs and in every aspect, this car seems to be the best. Here is some list of Pros and Cons of the car: 1. Styling- best one in the range 2. Features - all you can want. Power windows, infotainment, powe...மேலும் படிக்க

Really a very nice car for a small family 2+2. Very good drivability and mileage. Easy to maintain and nice puck up. Very good on highways and very good ground clearance.

Very happy with overall performance, listing out a few pros and cons Pros:- 1.looks are excellent, 2. best mileage car in petrol (I am currently getting 22.5/Liter, 3.BS6 engine has improved performance compared to BS4. 4.AMT performs really well in all equations. 5. Very smooth and comfortable to drive. 6. Renault back team keeps calling at least ...மேலும் படிக்க

The Interior needs to be better quality and mileage efficiency is very poor. The amazing exterior look and outstanding comfort for driving

Just for beginners. The mileage will be above average in a city 12km, overall it is 18km if your expertise in driving you can make 21 km per liter. Overall performance is decent enough and the quality of the product is below average. 5 people can sit comfortably, not suitable for long drives.மேலும் படிக்க

Good car for a family but there are some safety issues but mileage and comfort are excellent. Excellent features and ride comfort.

Faltu bakwaas car. Mileage is not up to the mark. The engine is much noisier than an auto-rickshaw. Even an 800 cc engine Consumes much more fuel in the range of 5 to 6 km per liter. Avoid buying this car. S presso or Alto is much better than KWID in comparison with engine performance, comfort, build quality, value for money. Not suitable for a lon...மேலும் படிக்க

Kwid is much better on highways then in the city, it is well-planted always cruising at 100 on the highway is very comfortable, balanced, and easy. I drove from Jaipur to Vadodara with 100 kg luggage and 3 passengers, the car was never out of control in the 773 km. stretch gave 20 kmpl mileage.மேலும் படிக்க

Alto is better in some aspects like mileage, performance, and maintenance. Build quality is not okay as well.

Nice car but sometimes pickup drops, the mileage is somewhere around 18.5kmpl. The engine is a bit noisy in 1st and second gear, budget car.













Not Sure, Which car to buy?
Let us help you find the dream car
கருத்தில் கொள்ள கூடுதல் கார் விருப்பங்கள்
க்விட் மாற்றுகள் இன் பயனர் மதிப்பீடுகள்
*புது டெல்லி இல் எக்ஸ்-ஷோரூம் இன் விலை
பயனர்களும் பார்வையிட்டனர்

Are you Confused?
48 hours இல் Ask anything & get answer
3 சலுகைகள்
Buy Now ரெனால்ட் க்விட் மற்றும் Get Loyalty Benef...
விற்பனையாளருடன் கிடைப்பதை சரிபார்க்கவும்
car insurance companies பிரபலம்