க்யா கார்னிவல் பயனர் மதிப்புரைகள்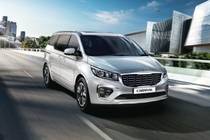 Rs. 24.95 - 33.95 லட்சம்*
*எக்ஸ்-ஷோரூம் விலை
புது டெல்லி
க்யா கார்னிவல் பயனர் மதிப்புரைகள்
All (67)
Mileage (7)
Performance (5)
Looks (12)
Comfort (18)
Engine (2)
Interior (7)
Power (4)
மேலும்...
நவீனமானது
பயனுள்ளது
VERIFIED
CRITICAL
Carnival is a great car. It defines a new luxury in the segment and price range. People who want a feature-rich car for comfortable travel should buy this car instead of SUVs like Fortuner and Endeavour. மேலும் படிக்க

A horrible response from the steering is coming when it is breaking at the speed over 80 km/ hr. Entire steering is vibrating like an earthquake on the steering and the entire hand is vibrating, as I am a self-driven person. I never expect this kind of steering response from this kind of vehicle. மேலும் படிக்க

One of the best cars.  I have driven and the best for family and the business people who love to travel a lot.

It is very nice car I think it is best car it is also an automatic and manual option in this Kia car. The car must also a door like an Omni car door and many options in this car. I like this car very much it is also useful to many users the car has 7 seats and also many gaps for luggage you buy this car very much. மேலும் படிக்க

The car is very class and luxurious The price I have paid accordingly I have got the item. Beautiful car and color also. I would like everyone to take a test drive of this car. மேலும் படிக்க

Overspeeding caution irritates while driving vehicles. Kindly reset it to a minimum at 160km per hour.

I got my vehicle in May 2020 and was able to take it out for a long drive only in September due to COVID restriction. Over all it is A very good vehicle but the ground clearance of 17 cm for a long car over Over 5 meter is a very serious issue it hits the bottom of you car every where on small slopes or small rise ( 17 cm is the ground clearance of...மேலும் படிக்க

Not worth the money we pay. Too high maintenance, low mileage, and the only good point is that it is more appealing on the road than other cars.

It's a very comfortable car. It is a beautiful shade. It has the cutest car in that range all nice colour.

This is the best in the segment.it is very refined and luxurious.

Kia Carnival is my dream car to buy because of the luxurious features.

Best MUV as compared to Innova Crysta.its very comfortable and full automatic car. Kia Carnival is the next generation of MUV cars in Indian markets, Kia almost takeover the Indian car automobile market. Kia Carnival is a familiar car and multipurpose car.its a very nice car and may I think carnival more popular than other cars. மேலும் படிக்க

The car has a mileage of 15kmpl on the highways, the car is a superb car and has unparalleled comfort levels and is spacious too.

Good capacity nice good for travel. My aim is to get a carnival soon thank you so much for the arrival of this car

The is much more costly as compared with features of base models. It looks like Kwid, the overall functions are not good.

The base model of Kia carnival has the same safety features as that of Maruti Alto, so better to buy Kia carnival.

Most stylish car with extraordinary comfort and convenience and attractive features. It gets a good response to the Indian market.

Kia Carnival is an awesome car with a full family sitting space and luggage. It is a very spacious car. The engine is so powerful to 197.5 BHP. The engine capacity is awesome than other cars. மேலும் படிக்க

The features are of this car are amazing. All the interior and outlooks are unique and perfectly made, the engine power and performance makes this care extra super. I think it will be a fighter against Toyota Crysta. மேலும் படிக்க

Best car Kia Carnival.Best price.Fully automatic car with great features.

It's a stylish car with beautiful looks. 

This is a very good car. Very comfortable & with having good technology system in it.

You get amazing features on this car by its price. It's a perfect family and a long road trip car for those who go with a big group or those who go in a group of 2 but take the luggage equal to 10 people. The car is a perfect creation for a middle class family who wants a dreamlike luxury. You get a tv, middle recliner seats and much more. மேலும் படிக்க

Excellent Car with a most spacious cabin and even the largest boot space. Ambiance and quality feel touch material is one of the best.

The only thing, I felt little drawback about carnival is its size which is about 355 mm more then Innova Crysta thus giving it a category of the big van. It's absolutely not a city vehicle & a big issue to park, even in the mall it's not easy but good for long upcountry, highway routes. மேலும் படிக்க

It is a very nice car and especially I am a big fan of its limousine variant. Though I have not bought one but thinking to buy this. The best thing about this car is it gives you the luxury and is also a family car. I have given this car an excellent rating because its overall performance is great. மேலும் படிக்க

It think, it is the best premium car we can get and its better and comfortable, it has so many cool things in there.

Overall good vehicle for the entire family and advanced car, technology is very great and super.

I like its look, I am totally impressed by all its features.














Not Sure, Which car to buy?
Let us help you find the dream car
கருத்தில் கொள்ள கூடுதல் கார் விருப்பங்கள்
கார்னிவல் மாற்றுகள் இன் பயனர் மதிப்பீடுகள்
*புது டெல்லி இல் எக்ஸ்-ஷோரூம் இன் விலை
1 சலுகை
This Festive Season, Bring முகப்பு the க்யா Ca...
விற்பனையாளருடன் கிடைப்பதை சரிபார்க்கவும்
பயனர்களும் பார்வையிட்டனர்
car insurance companies பிரபலம்

Are you Confused?
48 hours இல் Ask anything & get answer