ஏ Gem Rolling மீது the Road - டியாகோ XZA
A Gem Rolling on the Road - Tiago XZA
Tata Tiago has taken the hatchback market of India by storm. It not only has redefined the image of a small family hatchback by outselling its competitors but also has given nightmares to cars which are above its segment. Attractive looks, premium interiors, European build quality, the long list of features and unbeatable mileage are the factors which make it sell as a hot cake does. It seems like Tata motors had one shot to vindicate itself from the debacle of Nano. It tried to swim against the tide by creating the cheapest car in India which nobody wanted. So, what did it do It went to its acquired company Jaguar Land Rover and took ideas to build up a car which not only feels like a Land Rover but also has a price tag of Maruti. The result was Tiago which changed the company's fortune by becoming its best-selling car. Here is a long-term review of Tiago XZA. Pros: Attractive looks both in and out. Feels very premium and durable, safe, 2 airbags, ABS and EBD. Corner stability control system, high body strength. No signs of cost-cutting, comfortable body-hugging seats. Excellent suspension setup - Rides extremely well on bumpy roads. A great city and highway cruiser, 8-speaker Harman® surround system is a home theatre. Tata's improved after sale service Cons: 3-cylinder petrol engine refinement and NVH level (better than that of manual) A.M.T. unit give jerks on certain occasions Not for driving enthusiasts. Tiago JTP or Swift a better alternative Turning radius of 4.9 metres is large for a car of this class Visual Appeal (4/5): One is attracted towards the car especially if it sports an orange or a red paint job. I admired sunburst orange and got it. Its impact design gives the car a European look with cute honeycomb textured face grill, which merges really well with the headlamps. From the back also it looks very simple and stylish with no aggressive cuts. The two black panels under the spoiler give a very nice sporty touch. The alloy wheels look premium, but the design could have been better. From the inside, the cabin feels very premium with a dual tone colour scheme and beautifully designed dashboard. Chrome garnishing is used very smartly. Everything was a nice and sturdy build quality. It also offers plenty of storage spaces and hooks to be practical. The instrument cluster also feels very upmarket with its layout and does a full needle sweep to greet once you turn the key. The three stand out features are colour coded (Orange or Red) AC vents, cooled glove box with a push button instead of a pull handle, and all four backlit power window switches which one cannot find in this segment. Build Quality (Best in Class) (4/5): Despite being an Indian car, Tiago feels European when it comes to its build quality. You can actually feel its rock-solid strength by feeling the weight of its door which has a two-point halt mechanism too. Everything from the solid thud shutting sound of the door to the ticking of the indicators feels very premium. The gear knob also feels very elegant as it as high-quality leather and the right amount of chrome. The buttons on the infotainment system are nicely built too. It has been 2 years with my car, and I have never had a case of a switch coming out of its place. Everything still functions and looks as good as new and even after colliding the large ORVM with two-wheelers, it shows no sign of impact which speaks volumes of the car's body strength and durability. However, the door lock knobs feel very outdated, the plastic quality of AC vents feels patchy and the traditional lanky antenna on the rooftop feels so out of place. Driveability (3.5/5): Start up the engine and you will feel that Tata has worked on its reverberating complaints of unrefined engines. It feels a bit smoother and more refined than that of the manual Tiago, subtle vibrations are felt while idling, but they are well controlled this time and disappear completely once the car is out on the road, yet it will take you some time to get used to it if you are used to Maruti's super silent petrol engines. Just like any other A.M.T. in this price range, this gearbox's job is to ease up the driving experience and it does that very well. Tiago is not the quickest accelerator, but rather a great cruiser and it is meant to be driven in a relaxed and laid-back manner to go well with its nature in city mode. The sport steering wheel feels light in the city to manoeuvre. Yes, it is not perfect, gear shifts are felt, and it gets a bit jerky if you try to be rough with the accelerator while carrying 4 people and AC on. But if you hit the right RPM, the car feels very smooth and gears are changed effortlessly. Needless to say, this A.M.T box is best suited for the connoisseurs. However, Tiago is not Saint all the time. Switching to sports mode does change the character of the car well and the gears are held for a longer period which gives a sweet note from the exhaust. Press the accelerator hard and overtaking can be done with ease. But it is best to use city mode in traffic as sports mode makes the car a bit too jerky in stop and go traffic and the car lunges forward which can be scary in bumper to bumper traffic. One can easily get a mileage of 10 km/l in the city and 17 km/l on the highway. Manual mode is recommended for higher fuel efficiency. On highways, it performs better than what is expected from a car of this class. This is where the driver reaps the benefits of heavy kerb weight, short car height and the most powerful engine in its class. Even while cruising on Expressway at around 100-120 km/h it feels so planted and stable on the road. The steering also weighs up nicely with the speed. Also, corner stability control system ensures that the car stays confident on turning at high speed with low body roll. I have not tried this but post 120 km/h, the engine might get a bit noisy, but the car does a very good job within the prescribed speed limits. Safety (5/5) Best in class: Tata's motto is to set the benchmark of safety in the Indian automobile industry and Tiago fulfils it with no compromises. It is built on Nexon's 5-star NCAP rated platform so expect it to be almost as safe as its elder brother. It is also perhaps the only car in its class with 2 airbags which you get in the A.M.T. version. Surprisingly, it also has lane changing indicators (for those drivers with European driving etiquettes), fog lamps and speeds dependent auto door locks to make it a secure package. Its segment first corner stability control system is a major highlight. Its parking sensors could have been more accurate and reverse parking camera is surely missed but it can be easily installed as an accessory anytime. Ride quality (5/5) Best in class: This is where Tiago absolutely hits the bullseye. Be it its competitors or some of the cars above its class. No car comes closer to delivering as comfortable and joyful ride quality as Tiago does. It makes up for its occasional moody driving experience with the suspension set which is phenomenal and glides over potholes with ease, making it feel like you are driving a car which is two segments higher than its class. On top of it, the front seats make you feel like a king with superb cushioning and great driving stance. While the soft seats are a pleasure in the city, they might get uncomfortable on a 6-8-hour drive on the highway. Also, there is not much for the convenience of the rear passengers. The legroom and thigh support are good, but it can be a tight squeeze for passengers taller than 5'10" as they can be left gasping for headroom. The rear fixed head support is small and doesn't provide much support to either head or neck. So, 5 adults in the car are not recommended for 6 to 8-hour drive (Expect some fist fights for the front seats!). Features (4/5): In terms of features, Tiago A.M.T. may not provide all the next generation technology such as a touch screen, android auto or apple car play in 2019, but considering the price that you pay, it gives more than you can expect. The AC is powerful and cools the cabin within minutes and one does not feel the need of the rear ac vents at all. Its 8 speaker Harman® surround sound system deserves a standing ovation. It converts the car into a mini home theatre, and I ditch my headphones sometimes to listen to my playlist in it. It also does a fantastic job of muting the engine noise and the rampant honking on the roads of Delhi. Hard to find such a set up in an 18-lakh rupee car. Both the front and the rear wipers work well with a washer. ORVMs are very large and aid rear visibility but they really miss electric folding function, especially if the car is through a very narrow lane. The audio controls on the steering wheels are nice to use but are quite small, they also lag sometimes and confuse a command with some other command. Thankfully, they updated the system on the second service of the car and now they function at 95 per cent accuracy. Why buy it Even when its competitors are catching up, Tata Tiago is still the best budget hatchback because it makes it buyer feel like a king. Tata has done a phenomenal job of passing over the benefits of JLR to a car of this segment and has created a storm. It shows no signs of cost-cutting whatsoever and gives the best of both worlds - impressive mileage and safety. And by adding JTP, Wizz, EV, NRG and XZ+ variants, Tata clearly implies that this car will not only stay but will also serve the generations just like the Hyundai Santro and the Maruti Wagon R have done. While Tata's service may seem a gamble to some, from my experience, they have improved immensely and should not be a problem in a city such as Delhi. Tata has also created amazing cars such as Nexon and Harrier to answer. Take a bow Tata motors How did I end up buying a Tata car despite never thinking of it Experience: I was looking for a replacement for Maruti Alto 800 and considering the increasing traffic of Delhi and gaining popularity of A.M.T transmissions, an automatic car was the requirement. Back in 2016, finding an automatic car with a handful of safety features under Rs. 5 lakhs was not a daunting task as there were few options to choose from. Renault introduced an A.M.T. version of Kwid with a rotating dial to fulfil the demands of the people who dreamt of driving an automatic car. We went to the showroom and checked out Kwid; French car, auto transmission, nice and chic interiors, high ground clearance, one airbag! (Yes, when you look beyond Alto 800, an airbag seems a luxury). What else do you want from a low budget family car It fitted the bill and we decided to buy it, thereby turning our car search off. It's not every day that you stumble upon a piece of rock and it turns out to be a diamond. Here's what happened. As we were making an exit, we found that right next to Renault's showroom, there was Tata's. Obviously, we ignored it and pretended that showroom did not exist as nobody looks at Tata unless they wish to buy a taxi or a truck. However, there was a poster of an orange attractive car with Lionel Messi standing right next to it. I instantly remembered commercial which the company used to air on the televisions in 2016, in which Messi was shown with this car, driving and doing a couple of football tricks. Attractive but not convincing so we turned to move, but my dad wanted to see this car as we had not booked Kwid. Fine! I was uninterested as I knew it was not even worth trying. Maybe for the first time in my life, I entered a Tata showroom. We were introduced by parked Zests and Bolts, which one typically sees as taxis on the roads. A salesman swiftly came to us and handed us the brochure of the car that had brought us inside. The car was there in the corner of the room, shining in the spotlight and surrounded by the customers. So, we decided to go through the brochure first. Here is what the features list read: 2 Airbags ABS with EBD Alloy wheels Corner stability control system 8 speaker Harman sound system Electric power-assisted steering wheel Height adjustable driver seat with adjustable headrests Parking sensors with assist Electrically adjustable ORVMs with LED blinkers Follow-me-home headlamps Rear wiper with defogger and washer The features list was endless and exceeded all the imagination to the point where it felt like a Chinese mobile phone was trying to lure the customer. Tempting but still unconvincing. It was our turn to check out the car and with just one glimpse of the car, we were hooked and forgot that we were staring at a Tata Car. Tiago. I had seen it a couple of times on the road but never paid attention due to Tata's symbol on it. But here up-close It looked exceedingly stylish with the European body design and lovely orange shade. No wonder why it stood out from the rest of the cars. If the exteriors were attractive, the interiors were infectious. I opened the door and instantly felt the weight and the rigidity of the door, it opened with 2 halts and closed with a sweet sounding thud which makes one reminiscent of European cars. The interiors felt so premium and amazing that this Indian car felt more European than the actual European car we had planned to buy. 5 minutes in the cabin and I had to pinch myself to realise that was a Tata car and the salesman on my left confirmed it twice. He also turned on the 8-speaker set up and It felt like we were in a mini Land Rover, making us fall in love with the car instantly. I did not feel like leaving the car and as soon as the salesman told us about the on-road price, we forgot that we ever visited any other showroom besides that of Tata! 2 questions still concerned though one, Tata's infamous reliability and clumsy after-sales service and two, Tiago XZ was not available in automatic. Yes, it features list was so endless that it made us forget we wanted an automatic car, but yes it had to be automatic. I was pretty sure that auto gear shift will not be provided in the top-end XZ model as if I am mistaken no other company was doing that at that time. Every car company from Maruti to Hyundai was providing a 4-speed auto gear in the base/mid model due to cost considerations. So, we decided to wait for the automatic version of Tiago. A couple of months later in 2017, we received a call from the dealer that the automatic variant that we had been inquiring about had arrived and sent the car to our house for a test drive. It turned out that it was a top-spec version of the same version that we wanted in auto, badged as XZA! Not just an automatic transmission but a 5-speed A.M.T. box with creep function and sports mode! The biggest cherry on the cake by Tata Motors. It almost felt like the car was built on special order for us! So, we booked Tiago XZA despite never thinking of owning a Tata car in an era when people are criticizing Tata. It has been 2 years with the car and there have not been any issues either with the car or the service. The car has been serviced twice and the centre always does the job on the same day and the car feels and drives as good as new. There was once an issue with the battery of the car. I contacted the centre and they swiftly addressed the issue and replaced the battery. They also fixed the issue with the glitchy music controls on providing feedback. So, I don't think service should be an issue in metropolitan cities such as Delhi. Overall, I do not repent the decision of buying a Tata car and owning Tiago has been a pleasurable experience.
டாடா டியாகோ 2015-2019 பயனர் மதிப்புரைகள்
அடிப்படையிலான
928 பயனர் மதிப்புரைகள்
ஆல் (925)
Mileage (326)
Performance (155)
Looks (215)
Comfort (237)
Engine (228)
Interior (175)
Power (154)
More ...
நவீனமானது
பயனுள்ளது
VERIFIED
CRITICAL
1. Dashboard loses from the first day (major issue) it always vibrates on access gear..... Feels like it comes out 2. Extreme cabin noise 3. Lack of power after 60k ...மேலும் படிக்க

Best compact safe hatchback. Great mileage. Best look. Spacious. Awesome features with music system... Xz and XT best.Steering coolest..seats best in class. Dnt goes for ...மேலும் படிக்க

Awesome Car with user-friendly features. The music system is terrific. Dnt goes for negative reviews. Full value for money. Sophistication with power. Best Hatchback in l...மேலும் படிக்க

I'm the owner of tata Tiago ... it been 2 years with Tiago and it's really the best choice to choose handling is best in its class and steering is also very light easy to...மேலும் படிக்க

I love my Tiago. Excellent car in own category. The driving experience is overwhelming. I suggest if anyone wants to buy go with XZ model. In a competitive price, you wil...மேலும் படிக்க

This is the best car in the segment. It is worth the price range. It gives a smooth driving experience. The handling is amazing. The turning radius is excellent. The...மேலும் படிக்க

I have driven 25000 km in 1 Year with my Tata Tiago XZ. An excellent car with fully loaded options and an affordable price. The best features getting in this car. Follow ...மேலும் படிக்க

Good car in this category Tata has come back on the race. Nice performance. Good mileage. Good features. Really trusted one.

எல்லா டியாகோ 2015-2019 மதிப்பீடுகள் ஐயும் காண்க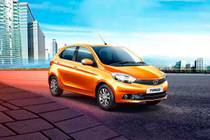 Rs.3.40 லக்ஹ - 6.56 லக்ஹ*
இந்த கார் மாதிரி காலாவதியானது
Write your Comment on டாடா டியாகோ 2015-2019
×
We need your சிட்டி to customize your experience