ஹூண்டாய் எக்ஸ்சென்ட் 1.2 VTVT எஸ்எக்ஸ் Option-Petrol-My முதல் wrost கார்
Hyundai Xcent 1.2 VTVT SX Option-Petrol-My first wrost Car
I have purchased a New Xcent top end Model with lot of expectations to enjoy on road Sedan Car experience. In my first month experience this car made me fool and I am getting more frustration about this car and I am not convinced myself that why I have bought the same. Car Details Hyundai Xcent 1.2 VTVT SX Option-Petrol ( Not New Facelift Model )-Pune Registration Date 6th May 2017. Running Kms-1520 Kms. This Car is having very serious concerns which I found in initial 1st month itself. I have reported the same to Kundan Hyundai Service concerns in well advance. Since last 15 days I am not using this Car and wont be in future w/o complete resolution or satisfaction. 1. Seating Arrangement-Driver Position Really its true that we should not conclude or can judge the Vech by test drive of 10-15 mins provided by the Car manufacturers and same I have experienced in this case also. Car test drive of 10-15 kms we felt its great but actually we can understand really when we take car for long drive for couple of hours and about their seating comfort. I was traveling to Pune-Aurangabad round trip same day and One side distance was 250 kms. Tentative 5 hrs drive from each side i.e. total 10hrs drive morning 5 hrs and evening 5 hrs. I was feeling little uncomforted after 4 hrs drive but I felt its because of some seat angle and I just ignored. When I was coming back to Pune after 2 hrs drive my back started pain and after 4 hrs I was not in position to drive the car because of savior back spine pain. I have tried various positions to get the relief with zero result. There is very serious concern with your seating arrangement I and dont know how it has been designed. I experienced that there is gap generate in your back and very little portion touches the back seat support. Also I have not understood the purpose of head rest position which is integrated part of Seat. It gives lot of trouble to your neck and you cant relax for moment also. I heard few suggestions from Hyundai team that try to use some pillows for seating-Hope support of Pillow is not in Hyundai design standard and dont want to here such suggestions in future. I have taken feedback of few Owners of same Model Cars on road randomly and 3 Customers out of 5 acknowledged there is problem in seating arrangement with this car and you have to go with customize seating arrangement. I shocked after hearing from them. 2. Suspension-I am having 6 years Old Car and the suspension function of my old car is far far better than this new car. There is worst suspension working function in this car and not smooth functioning or giving proper cushion on road. I am having 11 months kid and my wife couldnt feed to child seating in rear seat position during car is in motion. My wife also worried why there is so uncomfortable of suspension and she never experienced such problems in our previous cars. Specially the small chain of speed barkers or potholes on road or entire small pit hole hollow portion of road in this conditions its again worst. Please observe the same in PCMC on nonstop road (grade separator )@ 60-80 kmph 3. Mileage-After above two serious concerns added more frustration because of economy of fuel. This is One more surprise by this car. I have received and observed mileage of car at city Road conditions 9.5-10.5 Kms/L and subsequently on High way mileage noted 13-14 Kms/Ltrs. For 1520 Kms- I have spent or used almost 145 Ltrs petrol which is almost double of expected or designed conditions. I have reported all these concerns after well study so please do the scientific root cause analysis for above all 3 problems and dont do any R&D or trial and error experiment on this car w/o my permission. I am going to rate this is almost 1 star rank out of 5 and most disappointed customer. Hyundai is increasing market share of India and positioned rank second PC segment and hope not cheating to Customer by providing such highly defective product. What are the main important features of the car Safety, Driving, Seating, suspension & mileage these are the main function. I have not understood about your below provided features in Car or useless features. 1.Sun visor-Please give me the demo how to use this when sun rays hitting to your eyes. Either you cant see road when really you dont want hit sun rays or no use of this sun visor. 2.Hand rest position-Driver & co-driver positions-The provided projections in Door trim no use of it its at very lower position. 3.Top end Model-There is no provision of rear viper. Why this has been not provided ? 4.Useless console cup holders-no soft touch feeling or cant store any cup or mobile also. 5.Co-drivers roof support handles-If anybody is having kids this handle can make serious injury to that kids if he/she carried in arms and crossing speed barker. Why not made folding Handles. Its to hard and can make very serious injury to head. 6.Automatic climate control-I dont know at what position sensor is monitoring and controlling Car air condition system is question. If we kept @22 degree after some time its get at initial blower speed and rear seating peoples no effect of AC and feel very warm.
ஹூண்டாய் எக்ஸ்சென்ட் பயனர் மதிப்புரைகள்
அடிப்படையிலான
311 பயனர் மதிப்புரைகள்
ஆல் (311)
Mileage (95)
Performance (41)
Looks (65)
Comfort (92)
Engine (43)
Interior (29)
Power (38)
More ...
நவீனமானது
பயனுள்ளது
VERIFIED
CRITICAL
I have owned two Hyundai Xcent base model for tourist purpose, one out of that car clutch plate I changed at 198000km which was even working fine but to avoid sudden brea...மேலும் படிக்க

I am fully satisfied, Low-cost maintenance, Excellent mileage at low cost, Music Systems sound Quality very good.. Thanks, Hyundai.

Amazing car and part of my life. Traveled length and breadth of South India and both the car and me never got tired. Always roaring to goooo.

Hyundai Xcent is the best car which I have ever I used, It had a very good pickup with less maintenance cost.

It is not good for traveling the city drive. Its body is not solid. This car is really bad. Not value for money. Hyundai scam with us.

Good experience in Hyundai Vertical like Safety and features or Service and Maintenance material used.Good For Hyundai.

Despite giving the best cooling, I still consider the AC as a failure in Xcent. I have been using Xcent Diesel since 2015. Most of my usage is within the city for office ...மேலும் படிக்க

Hyundai Xcent is a car built for and to be used by the executive class only..at the moment when I bought it, it had great features as per cost factors. The car is ok...மேலும் படிக்க

எல்லா எக்ஸ்சென்ட் மதிப்பீடுகள் ஐயும் காண்க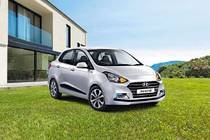 Rs.5.37 லக்ஹ - 8.75 லக்ஹ*
இந்த கார் மாதிரி காலாவதியானது
Write your Comment on ஹூண்டாய் எக்ஸ்சென்ட்
5 கருத்துகள்
1
s
suvendu
Aug 27, 2018 9:19:04 PM
yes, you are correct. I am having Xcent 1.2 S, even i have experience a back pain when i used to drive continuously , specially when you are in ghat section driving 3 hours it pains a lot when compare to straight road. Now i am thinking of getting some pillow as u told that there is a gap between our back and sit. May be that is temporary solution or customized your sit .
Read More...
பதில்
Write a Reply
1
A
abhishek
Jul 2, 2018 3:15:14 PM
Well, we bought xcent petrol (s) in april 2015 provided to my father and co. owned.That time i had an year old zest petrol .Apart frm comfort within 3 years the clutch, battery and 4 rims of the car rusted nhd to b changed.Whr as zest in 4th year only brake pad gone.Its really a cheap quality product xcnt, only show.Serv center also seems fool customer.Car or dabba only engine good?
Read More...
பதில்
Write a Reply
1
P
prashant rajput
Dec 16, 2017 8:56:51 PM
I think your old car should be Suzuki make. Every car will give back-pain after continuous 4 hours driving. Mileage will be quite low in initial period of car running.
Read More...
பதில்
Write a Reply
×
We need your சிட்டி to customize your experience