Stay away from Mobilio...serious safety risk!
Stay away from Mobilio...serious safety risk!
I have been a loyal Honda customer for about last 20 years! I purchased Honda Mobilio within the very first month of its launch, mainly because I liked the exterior shape of this car from trusted Honda family. However, I have been extremely disappointed over the last six months of my use of this car and would like everyone to read this review before making their purchase: Quality of Workmanship of Electronics: There is a serious malfunction in the electronics of Mobilio and after frequent visits to the dealership, I have discovered that I am not the only one suffering from this issue! There are a lot of customers suffering from this problem: the central locking, music system and lights of the car blow up every couple of weeks! Luckily for me, only the non-essential electronics are blowing up but I am worried what if there is a electronic fault and the doors, windows etc. lock up and the car goes up in flames? The Honda dealership I purchased this is least bothered about the problem as it doesn't really impact their bottom-line! Engine Performance, Fuel Economy and Gearbox: It seems like in order to improve the Fuel Economy of the car, what the Indian designers of Honda have done is SIMPLY REMOVE parts from the original car and/or replace with lighter materials. As a result the car is extremely light and handles accordingly. However, the biggest downside of this car is that the car is so light that if you are driving on highway and an ALTO doing 60/70 kmph passes you, the entire car starts shaking! It definitely doesn't give you a feeling that you are driving a safe car! So if you want to use this as a second car at home for taking around your kids, safety is a serious concern and you should think before buying the car! The mileage that we have been getting on this Petrol vehicle in City driving is 11-12 kmpl and 13-14 kmpl in Highway driving even after 8 months/14000 kms of driving! Exterior: Shape is appealing but the sheet material used for this car is extremely thin/light keeeping in mind the all important aspect of mileage! So if there is an accident, God can only help the occupants of this car! As it is in India, there are no regulations and accident tracking on CRASH TESTING and even the established auto players have been taking advantage of lives of Indians in this regard! Interior (Features, Space
ஹோண்டா மொபிலியோ பயனர் மதிப்புரைகள்
அடிப்படையிலான
26 பயனர் மதிப்புரைகள்
ஆல் (26)
Mileage (19)
Performance (3)
Looks (21)
Comfort (19)
Engine (11)
Interior (7)
Power (3)
More ...
நவீனமானது
பயனுள்ளது
CRITICAL
Super experience drive the car comfortable and fuel economy, low-cost maintenance, and powerful engine

I can buy honda mobilio i-dtech diesel (s) variant, purchased on date 23-11-2016, till today I&...மேலும் படிக்க

Very good car from HondaValue of moneyBest driving experience So many option in variants ABS work very wellBest in class

Good car for a family purpose. Worth buying. Can be a good option for short weekend trip... Good interior and entertainment system to keep you relaxed and stress-free fro...மேலும் படிக்க

Mobilio comes with a great choice of engines. Both are fast and fuel-efficient. - The suspension offers compliant ride quality & neutral handling. 189 mm of ground cl...மேலும் படிக்க

I am the proud owner of Honda Mobilio Diesel variant, its been almost 2 years I am using - new had any issue with the vehicle. I like the power of the Vehicle. Best vehic...மேலும் படிக்க

Honda Mobilio, a new seven-seater that promises space and flexibility, comfort and class-leading fuel efficiency.MPVs or multi-purpose vehicles will be the next volume dr...மேலும் படிக்க

Look and Style: Beautiful design & impressive tail appearance. Head turner side profile. Comfort: Very spacious & leg room up to the 3rd row is very good. Seats h...மேலும் படிக்க

எல்லா மொபிலியோ மதிப்பீடுகள் ஐயும் காண்க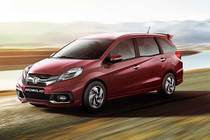 Rs.7.18 லக்ஹ - 12.33 லக்ஹ*
இந்த கார் மாதிரி காலாவதியானது
Write your Comment on ஹோண்டா மொபிலியோ
6 கருத்துகள்
1
E
emmanuel dumlao
Sep 17, 2020 7:09:15 PM
I had my 1.5 MT honda mobilio serviced a week ago. Honda told me that my car's brake calipers are already damaged and must be replaced. It is barely two years old with 17,000 kms mileage.
Read More...
பதில்
Write a Reply
1
P
pargat singh
Aug 5, 2019 7:26:43 PM
Don't purchase honda. The agency set up the alarm system that you have to get it serviced within 6 months else it will start creating problems . Specially filters start getting choked third grade
Read More...
பதில்
Write a Reply
1
K
krishna
Aug 8, 2018 11:44:46 PM
Once u get used to it u will understand that it will give u more control over ur vehicle. Gives u more control while over 100-120. For those who complains about the vehicle try using its for one month and drive at least 1000 Kms. After that u will understand most vehicle peer to it is bad. Only problem I felt so far is its engine sound. Should have done some thing about it.
Read More...
பதில்
Write a Reply
×
We need your சிட்டி to customize your experience