Solid performer with plenty of power
Solid performer with plenty of power
Amongst the third life cycle update of V8 Vantages only one truly stands out and that is the addition of the S trim level. Take what you get from the previous generation V8 Vantage and modify the intake, exhaust, and ecu to make slightly more power and torque at 430 HP and 361 lb-ft of torque. The focus of the V8 Vantage S is sharpness, so the steering rack was made quicker and the suspension and chassis components were stiffened with harder bushings and springs.The 2015 Aston Martin V8 Vantage is a rear-drive sports car available in coupe or convertible body styles. Powered by a 4.7-liter V-8 rated at 420 hp and 357 lb-ft of torque in the base model, the car produces 430 hp and 361 lb-ft in the S and GT variants. The engine is paired with a six-speed manual or a seven-speed automatic transmission. Gas mileage isn?t a strong point at 13/19 mpg city/highway with the manual and 14/21 mpg with the automatic. For those looking for more power, Aston Martin?s V12 Vantage has a larger engine.Despite being seven years old, the V8 Vantage remains a solid performer with plenty of power and two excellent transmission choices. The seven-speed automatic, which was added in the 2011 model year, improves performance with faster, more refined shifts; however, it lags behind competitors with gearboxes that are even quicker and better sorted. Handling, on the other hand, is another strong point thanks to the car?s impeccably tuned suspension and excellent grip levels, which allow it to stay planted during spirited driving. It doesn?t sacrifice ride quality in favor of agility. Aston Martin offers an extensive list of customization options with more than a dozen exterior colors and interior color combinations in leather and Alcantara, four wheel designs, and contrast stitching.Aston?s ability to inject a touch of theatre to an interior appears in the Vantage, with copious use of top-quality wood and metal, all arranged in a pleasingly pared- down fashion. There?s plenty of space for two adults and luggage, making the Vantage a surprisingly practical car and an honest, usable daily driver, and various upgrades to the satellite navigation and other electrical systems mean that the baby Aston feels at least on the pace with technology. It can feel a bit dark and cave-like, but you?ll forgive that every time you glance back at the car as you walk away; it really does look great.Every new variant chips value from the previous generation, with early cars now at very reasonable money. The Vantage apparently suffered from some electrical gremlins at the start, now solved, and residual values are generally good for low-mileage, well cared-for cars. Be aware that you?re talking about an Aston, though, so group 50 insurance and 35 per cent tax on everything (CO2 figures aren?t the best, with the basic V8 being 320g/km), with equally wilting servicing costs.The V8 Vantage?s best trait is its ?feeling of indestructibility? thanks to its ultra-rigid aluminum structure and a proven powertrain. However, the new seven-speed automatic transmission is a weak point since it doesn?t feel as refined as competitors? units even with the Sport mode.
ஆஸ்டன் மார்டின் வேன்டேஜ் 2011-2019 பயனர் மதிப்புரைகள்
அடிப்படையிலான
10 பயனர் மதிப்புரைகள்
ஆல் (4)
Mileage (2)
Performance (1)
Looks (3)
Comfort (1)
Engine (3)
Interior (2)
Power (3)
More ...
Aston had sold more than 5000 cars for the first time since 2008 and was on course to declare a phenomenon that so few of the company's proprietor's have consistentl...மேலும் படிக்க

Hear the word supercar and usually, Lamborghinis and Ferraris will come to mind. However, some cars are made for everlasting looks and full of character. Aston Martin Van...மேலும் படிக்க

Amongst the third life cycle update of V8 Vantages only one truly stands out and that is the addition of the S trim level. Take what you get from the previous generation ...மேலும் படிக்க

Look and Style: Nice looks, a lot of interior things are given to make ou feel premium. Comfort: Very comfortable in both seating & driving. Pickup: Good pick up. Mil...மேலும் படிக்க

எல்லா வேன்டேஜ் 2011-2019 மதிப்பீடுகள் ஐயும் காண்க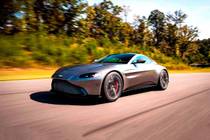 Rs.1.35 - 3.50 சிஆர்*
இந்த கார் மாதிரி காலாவதியானது
Write your Comment on ஆஸ்டன் மார்டின் வேன்டேஜ் 2011-2019
போக்கு ஆஸ்டன் மார்டின் கார்கள்
×
We need your சிட்டி to customize your experience