டொயோட்டா காம்ரி
Toyota Camry
Toyota Camry is the Bud Light of family sedans: it?s inoffensive, reliable, reasonably priced, and gets the job done. And much like that mainstream, low-calorie brew, the American public continues to purchase the Camry in droves. The Japanese family sedan has held the title of America?s best-selling car for 14 years, and, as of this writing, the Camry is on track to once again wear the crown at the close of the 2016 calendar year. Armed with 268 horsepower and 248 lb-ft of torque, the Camry?s V-6 is stout, yet it makes less power and torque than six-cylinder competitors from Ford, Honda, and Volkswagen. We?ve recorded a 5.8-second zero-to-60-mph time for a similar 2015 Camry XSE V-6, which puts it in league with the Honda Accord V-6 (5.8 seconds) and the Volkswagen Passat V-6 (5.7 seconds). All three cars are naturally aspirated and front-wheel drive, but our 2017 version needed 6.1 seconds to do the deed. That?s still quick, but it?s a full second behind the 325-hp, twin-turbo all-wheel-drive Ford Fusion Sport we recently tested.While the Camry V-6 may not be the quickest family sedan available, it?s plenty brisk for real-world driving. Thanks to a relatively svelte curb weight (our 3478-pound test example weighed 650 pounds less than the Fusion Sport) and a six-speed automatic transmission that?s fairly eager to kick down, the Camry executed our 50-to-70-mph passing test in 3.9 seconds, 0.3 second quicker than the Accord and 0.1 second quicker than the Passat.More impressive, though, was the V-6?s fuel efficiency. Rated at 21 mpg city and 30 mpg highway, the Toyota returned 25 mpg overall, which is 1 mpg better than the EPA?s combined rating. The Camry also annihilated its EPA highway figure with a 35-mpg run on our 200-mile, 75-mph highway loop, a feat that?s as much a credit to the Camry?s well-tuned powertrain as it is to the car?s 0.28 drag coefficient.Wrapping around XSE-specific 10-spoke, 18-inch wheels, our test car?s Bridgestone Turanza EL400-02 all-season tires also aided fuel economy but did not generate much in the way of dry grip. Around the skidpad the Camry squealed mercilessly to the tune of 0.79 g?a surprisingly low figure given that the XSE is the Camry?s sportiest trim level and is fitted with stiffer suspension pieces, extra bracing, and aggressive bodywork. A stiff ride and numb, heavy steering further added to our subjective frustrations. What?s more, a 70-mph-to-zero stopping distance of 189 feet didn?t just trail competitors such as the Fusion Sport (178 feet), Accord V-6 (176 feet), and Passat V-6 (170 feet), it also lagged behind the 187-foot distance we recorded from a 1279-pound-heavier Toyota 4Runner. Once again, our 2015 Camry XSE V-6 performed better, coming to a halt in 178 feet. Credit is likely due to the Michelin Primacy MXM4 tires on the 2015 XSE.The XSE also has the unexciting but appealing qualities that continue to bolster the Camry?s success. A low beltline provides fantastic outward visibility from behind the three-spoke steering wheel, while an ergonomic if overstyled dashboard includes a standard inductive charging pad for compatible smartphones, a number of deep storage nooks, and easy-to-use HVAC and multimedia controls. Specific to the XSE are seats and door panels partially covered in faux suede; it also has a pair of steering-wheel-mounted paddle shifters like those in the lower-level Camry SE. As in Camrys past, the trunk is quite roomy and the back seat is among the largest in the mid-size-sedan class and has plenty of space for stretching out.
டொயோட்டா காம்ரி 2015-2022 பயனர் மதிப்புரைகள்
அடிப்படையிலான
26 பயனர் மதிப்புரைகள்
ஆல் (26)
Mileage (6)
Performance (3)
Looks (6)
Comfort (14)
Engine (9)
Interior (7)
Power (7)
More ...
நவீனமானது
பயனுள்ளது
VERIFIED
Excellent vehicle with great comfort and mileage. The only essential feature missing is the apple/android play. A lot of new features were added to this 2021 version.

2006 model Camry automatic Serves amazingly quick pickup and has so much power that you feel so proud driving that car.

Toyota Camry is a truly fantastic Car. I've been using it since past 2 months. Pros: 1. Great Mileage of around 24km/liter. 2. Hybrid Car - It runs on a petrol engine, on...மேலும் படிக்க

I recently purchased this car and the car is mindblowing as per interiors. And the car was loaded with most features.

We bought the car in September 2010 from the day we are traveling on the car nearly 100-200km per day.we don't get any strike and problems on our way .the cushion is desi...மேலும் படிக்க

Great Car, Good milage Good looks Low running and maintenance cost.. But Very few will spend 47 lakhs for a toyota car though it is hybrid.. people are will look for a pr...மேலும் படிக்க

We have bought this car in the year 2014 and this is our 3rd Toyota Camry, this car is complete package of luxury and class I believe its surely a value for money car whi...மேலும் படிக்க

Its a hybrid car with plug-in the system which may give efficient riding characteristics and braking is too good compared to old Camry, it has 2.5Litre gasoline engine gi...மேலும் படிக்க

எல்லா காம்ரி 2015-2022 மதிப்பீடுகள் ஐயும் காண்க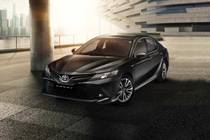 Rs.30.28 லக்ஹ - 41.70 லக்ஹ*
இந்த கார் மாதிரி காலாவதியானது
Write your Comment on டொயோட்டா காம்ரி 2015-2022
×
We need your சிட்டி to customize your experience