டாடா ஏரியா Negatives
Tata Aria Negatives
Before purchasing Aria I had 1.Mahindra Scorpio which is driven by me for more than 90,000 Kilometer[sold during purchase of Aria] 2.Mahindra Scorpio which is driven by me for 26,000 Kilometers 3.Toyota Innova which is driven by me for about 50,000 Kilometers 4.Apart from the above my company vehicle I have taken for office trips are TATA Indica, Mahindra Scorpio, Pajero, Honda CRV, Sckoda Lura which is driven by me about 5000 Kilometers By the above vehicle description, you can understand that I have a good driving knowledge, experience and knowledge about the four wheel vehicles. My choice to take to this Aria is only because it is top end Indian manufactured model in its class particularly by Tata Motors, even though the price was higher when compared to other company vehicles for top end model . During the tenure of six months I came across so many problems in the vehicle which is enumerated below Problem No.1: Steering is too hard to handle, during drive I started getting shoulder pain Problem No.2: Air Cooler for long trip will start giving sound and cooling effect will come down. Problem No.3: Navigation system is not user friendly Problem No. 4: Cruise control on steering wheel are very hard. Problem No. 5: Pick up is too bad, it is too dangerous while overtaking any vehicle on road. During my trip to Shirdi from Bellary last 300 Kilometers was too bad pick up even in first gear. Problem No.6: Brakes are not comfortable, once the vehicle crosses above 100 kilometers speed. Problem No. 7: Vehicle will not be in driver control when it crosses above 100 kilometers speed. Problem No.8: Till now I had gone for long trips twice in Aria and vehicle has generated TCS EBD fault and it says Restricted performance. During this problem pick up of vehicle even in first gear is too bad. Problem No.9: No comfort for Rear seat passengers when vehicle crosses 100 kilometers speed. Problem No.10: Last Rear seat even one person cannot sit properly [leave about comfortably], even after adjustment of front rear seat. Problem No.11: Mileage of mine Aria is in and around 7 to 8 kilometers per liter. Problem No.12: While filling up of diesel in fuel tank, it will take long time to fill completely i.e. 60 liters. Problem No.13: I had called customer care on the day, when vehicle started giving problem on my way to Bellary from Shirdi. They said that with in 10 minutes technical person will call back me, but till now I have not received call from technical person. For vehicle of this cost, customer never expects this kind of response during road side problems Problem No. 14: From the inception to till date I had received so many calls from Tata Motors taking a feedback on the showroom behavior, but they have never ever asked about the vehicle performance. See I am proud that Tata Motors [Indian car manufacturer] has made a top end car with excellent facilities. But when I started using this Aria I felt that this vehicle is not so worth. You have to understand that this is not Nano, Indica, Vista and price of this Aria is not small. A different class of people will buy this Aria and will assume to utilize the facilities. I am totally upset about this vehicle. You can drive Mahindra Scorpio, Toyota Innova and other vehicle available in the market at this price and see the road grip and performance. I have handed over the Aria in Bhagyodaya Motors Bellary. I want to return back the vehicle.
டாடா ஏரியா பயனர் மதிப்புரைகள்
அடிப்படையிலான
8 பயனர் மதிப்புரைகள்
ஆல் (8)
Mileage (3)
Performance (4)
Looks (6)
Comfort (7)
Engine (2)
Interior (3)
Power (2)
More ...
நவீனமானது
பயனுள்ளது
CRITICAL
I have tata aria pride 4x4 leather vehicle is having excellent look as well as performance rain sensing wipers working properly headlamp sensor feature is also good every...மேலும் படிக்க

Back in 2010 when the Indian auto industry just offered hatchbacks, sedans and UVs, Tata Motors was the first to introduce a whole new segment called a Crossover. Yes it ...மேலும் படிக்க

Tata Aria was launched way back in early 2010 was created quite a stir, but it never seen its lime light. It was over shadowed by Innova from the very first day and from ...மேலும் படிக்க

Before purchasing Aria I had 1.Mahindra Scorpio which is driven by me for more than 90,000 Kilometer[sold during purchase of Aria] 2.Mahindra Scorpio which is driven by m...மேலும் படிக்க

Look and Style DONT TAKE RONG DESITION , NOW I HAVE A GOOD EXPERIENCE BEFORE BUY ENQUIRY ABOUT SERVICING,AND SEE BRAND IMAGE ALSO.THIS TATA ARIA GIVE A VERY BAD EXPERIENC...மேலும் படிக்க

Look and Style:- Good look like a sports geep & for off road Comfort:- space better than other similar segment vehicles Pickup:- fast pic up but lesser than tha...மேலும் படிக்க

The first look at the car ,from the front though, resembled somewhat like a grown up MANZA. The side profile may be different, but the back, an absolute Indica Vista. In ...மேலும் படிக்க

Having seen enough, I moved on to the last row of seats, with my friends occupying the centre seats. The seats were decently comfortable unless we folded the middle row s...மேலும் படிக்க

எல்லா ஏரியா மதிப்பீடுகள் ஐயும் காண்க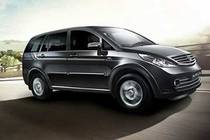 Rs.10.40 லக்ஹ - 16.26 லக்ஹ*
இந்த கார் மாதிரி காலாவதியானது
Write your Comment on டாடா ஏரியா
5 கருத்துகள்
1
b
babunathreddy
Jan 1, 2017 1:21:07 PM
tata aria
Read More...
பதில்
Write a Reply
1
s
siddardha
May 3, 2016 2:33:50 PM
Even i own a tata aria 4x4 pride...what all issues you have been telling,i havent faced even a single of it. It seems to be that aria is the most misunderstood vehicle ever in the indian market.even tank capacity of 60l is also a issue for you? Too bad
Read More...
பதில்
Write a Reply
2
K
kadir shaikh
Jan 21, 2021 6:48:47 AM
Hi sir I am planning to buy a used Ariya so what would you suggest to me sir. should I go with the vehicle or not please reply me sir
Read More...
பதில்
Write a Reply
1
R
rajeev rai
Jun 6, 2015 10:35:28 PM
I own a Tata Aria since 2010. This vehicle is a complete waste of money. Airconditioning is worst and it remains mire with the garage than with me. No one should buy Tata Aria as it has now been nicknamed as 'truck' in my office as the size is huge but the comfort inside the vehicle is only of a truck.
Read More...
பதில்
Write a Reply
×
We need your சிட்டி to customize your experience