Powerfull car if you self driving
Powerfull car if you self driving
I purchase the car from JMD skoda Mumbai in Oct 2011and since then it been close to 5years i have been using and done 70000kms. It is 4x4 ambition model mfd 2011. It is a very powerful car 2ltrs engine (1968cc) rock steady in driving in all kinds of roads in city , highway i have done little bit of off road too , steady drive wheel , you will feel the power both in climbs and flat road , no jerking and good suspension. Fuel economy of 14/15kms is really good for a 2ltr diesel engine. The exterior are little old fashion European style - broad wheel base with alloy steel but the spare Tyre come with normal for car which was 18lacs + those days it is too unfortunate that skoda will try and cut corners on these things. The AC is front is fine - but no auto control even the steering wheel does not the any control of Multimedia player - may the current version have it ! This is solid car if you are self driving the rear seats are not comfortable and the ACs do not function - in fact with the first 10-11 months i had gone JMD kandivalli service center - they tried every thing to the extent of replacing the AC compressor ( free) and kept the car with them for service for 2 weeks as it was defective but it improved only 20% , they too finally gave up. The annual service bill will be approx 24-25k except for the 1st year. Even the seating of 3 adults in rear is issue as the AC vent in middle of rear will cause discomfort. The boott is spacious the rear seats are adjustable and foldable in case if you want sleep in long outdoor camp Excellent driving comfort even after 300kms of non stop driving in fact you will not feel tired it is extremely easy to maneuver. The Tyre will last around 45000-50000km and the need to be replaced - even you gear box will last approx 60000kms and the need to change the clutch kit and fly wheel which will cost approx 80k. It is once year maintenance or after 15000kms will cost you approx 24k. If you are doing 80-100kms on daily basis self drive and want a powerful stuff then this is good option - not good for families and rear travelers. The skoda services needs to improve in India - like 24x7 helpline, customer care, my experience have not been good - in fact i found out the service center better like in JMD Skoda in Mumbai though they will try to extract as much business from you but will advice the right thing i found the same in Mahavira Auto Hyderabad where i have recently relocated from Mumbai. It may be because when i go for my vehicle repairs or maintenance i strike a chord with service engineers etc - but most customer complains. I will probably use the current Vehicle as i like the power and sturdy attitude of this car and my average run daily is around 80kms - may be i will use it till 150000kms which is another 4 years -i am sure it will survive till then with quality maintenance. .
ஸ்கோடா எட்டி பயனர் மதிப்புரைகள்
அடிப்படையிலான
27 பயனர் மதிப்புரைகள்
ஆல் (27)
Mileage (8)
Performance (7)
Looks (17)
Comfort (9)
Engine (7)
Interior (1)
Power (4)
More ...
நவீனமானது
பயனுள்ளது
CRITICAL
Look and Style very good Comfort very good Pickupis good. however at lower speed engine cuts off abruptly unless initial acceleration is slow in 2nd gear onwards. Mileage...மேலும் படிக்க

At Skoda, it's apparent that there are no rigid rules being enforced on the designers, no narrow perfectly defined pathways along which they must march. And this can be s...மேலும் படிக்க

I purchase the car from JMD skoda Mumbai in Oct 2011and since then it been close to 5years i have been using and done 70000kms. It is 4x4 ambition model mfd 2011. It is a...மேலும் படிக்க

Look and Style: I know many people will find the styling to be quirky but personally am a huge fan of the styling of this urban SUV. There is something uniquely European ...மேலும் படிக்க

Look and Style: Looks sharp, stylish from front and rear, but it looks a bit boring from sides. Comfort: Full leather seats, A/C glove box, 6-way adjustable seats (...மேலும் படிக்க

I own a Skoda Yeti Elegance. Bought it in December 2010 and have driven it 80,000 km in the two years. I love everything about the vehicle. The fact that it doesn't stand...மேலும் படிக்க

Look and Style: A bit unconventional. But the boxy look from the rear grows on you while making for good visibility and storage. The Range Rover is not a great look...மேலும் படிக்க

Look and Style Last Sunday I got a chance to undergo the test drive of new Skoda Yeti 4x2 variant. When I looked the car from front it caught my eye with its sporty and e...மேலும் படிக்க

எல்லா எட்டி மதிப்பீடுகள் ஐயும் காண்க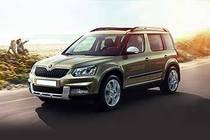 Rs.20.11 லக்ஹ - 23.10 லக்ஹ*
இந்த கார் மாதிரி காலாவதியானது
Write your Comment on ஸ்கோடா எட்டி
போக்கு ஸ்கோடா கார்கள்
ஸ்கோடா enyaq iv

Rs.60.00 லட்சம்கணக்கிடப்பட்ட விலை

அறிமுக எதிர்பார்ப்பு: ஜனவரி 15, 2023
×
We need your சிட்டி to customize your experience