மஹிந்திரா கே யூ வி 100 ன் க்ஸ் டீ பயனர் மதிப்புரைகள்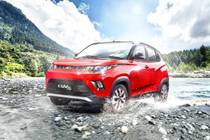 Rs. 5.87 - 7.48 லட்சம் *
*எக்ஸ்-ஷோரூம் விலை
புது டெல்லி
மஹிந்திரா கே யூ வி 100 ன் க்ஸ் டீ பயனர் மதிப்புரைகள்
ஆல் (181)
Mileage (68)
Performance (27)
Looks (37)
Comfort (49)
Engine (27)
Interior (13)
Power (26)
மேலும்...
நவீனமானது
பயனுள்ளது
VERIFIED
CRITICAL
I have KUV 100 NXT K8 petrol variant. I am facing a problem from last 2-3 weeks. Pulling problem when gear shifted to 3 & 4 & 5. When I pedal the accelerator it response after 1-2 seconds. Is this is a complaint or it happens in KUV 100 petrol variant. மேலும் படிக்க

It is a better car for a middle-class and small family. It is affordable for those who are not able to fulfil their dream of luxury cars.

Average performance in comparison with other cars in this sagment or price. Its acceleration is good, but for safety purpose, not a good option.

Supercar no words because its safest car and just one thing which needs to be changed is the music system which is a little outdated.

Not recommended for a person who looks for a great drive. Not at all smooth, lots of sound and ac literally doesn't work but makes a huge sound.

For this price range, Mahindra has given the best, except for the mileage. Inside the Chennai city with AC on - it hardly gives 10kmpl, on the highways with AC on it may reach to 15Kmp. You will only get the Mahindra promised mileage only if you turn off the AC on the highways. மேலும் படிக்க

Good family car, mileage is getting 13-17, comfortable riding. Not a performance car, only for those people who prefers to travel with riding comfort.

1.When the question comes to comfort It is not at all comfortable for long drives. 2. The mileage they claim is 24 not sure but hardly 12 in the city and 16 on the highway. 3. Performance great joke old i20 can beat this car very easily. 4. Maintenance cost is ok. But but but the big issue. Its MAHINDRA parts not available easily, horrible after-sa...மேலும் படிக்க

Good safety and good performance and a six-seater car. The performance and mileage of the car are also good.

I do not recommend this car, at all please don't buy this car.

It's a safe and budget mini SUV. I have k4plus petrol red and it's a mini monster. I get 16km/lit on high way and it's good mileage. Perfect car for family. Design is very good both exterior and interior. மேலும் படிக்க

I want this car for my family and it comes under 6 lakhs. This is in my budget and it has low maintenance costs.

This is a good car. I'm using this car for the past 2 years and till now didn't get any problem and really a good surprise to discover this Indian car.

Very good and smart car. Comfort to drive. The designing of the car is excited for me. It's always like new when I see this car.

Awesome car. Driven 35k KM till now. Mileage 18 to 20km / per ltr. Car balancing superb. spacious. No maintenance till now. Must go with KUV100.

Very poor mileage and boot space is very small. Less maintenance cost but the engine is a bit noisy.

Excellent performance and nice car ac is a very good and nice performance.

Its good with this range, stylish after service mileage problem also solved. Very good car. Mahindra mini versions.

1. Buying experience: It is always good with any seller, I mean you are giving the business by putting your hard-earned money in their pockets. 2. Driving experience: There will be loud noise always entering in your cabin, the engine lacks that punch, fuel economy is poor. The only good thing is the air conditioning this is extremely good. 3. No co...மேலும் படிக்க

This is a car and also a mini SUV. I was searching for comfort, space, and performance. The mileage is 2km/lit, extra no other rivalry for it.

We bought a Mahindra KUV100 at Kakinada. This car is very safe and comfortable. This car has only two airbags but it is safe.

Great Experience with muscular Mahindra KUV 100. Great suspension excellent stability. Little bit pick up the issue but it is okay.

Super duper car my favourite. I want this car looks very quite or detection Mahindra Kuv 100 full defence their moble.

Good car with strong body, diesel engine gives good performance and mileage in this car and a very safe car, although some things can be improved like cabin noise insulation and wheel size, can be increased a little, but other than that there is no problem and I do have the diesel variant, it's just good in everything. மேலும் படிக்க

Power is missing at hill areas even in first gear and sudden power lag for many seconds. It gathers power after a while doesn't know what's the matter. The second thing is if you run your car at 50 km/h while on curves shifting gear down and apply sudden brakes. It fails because brake paddle touches with steering rod you have to move steering sudde...மேலும் படிக்க

The car is great and has a great interior space, the car has a quick pickup.

Very nice car... Have installed CNG, very good mileage of 27 on CNG. The safety is very good. Very spacious 5 people can sit comfortably. Engine is very good.

Everything is awesome in this car I like very much this is a familiar car I love Mahindra vehicles.

The car is good with great comfort and style with a great mileage I will refer this car to all my friends and relatives













Not Sure, Which car to buy?
Let us help you find the dream car
கருத்தில் கொள்ள கூடுதல் கார் விருப்பங்கள்
கே யூ வி 100 ன் க்ஸ் டீ மாற்றுகள் இன் பயனர் மதிப்பீடுகள்
*புது டெல்லி இல் எக்ஸ்-ஷோரூம் இன் விலை
பயனர்களும் பார்வையிட்டனர்

Are you Confused?
48 hours இல் Ask anything & get answer
3 சலுகைகள்
மஹிந்திரா Kuv 100 :- Cash Discount அப் to... ஒன
5 நாட்கள் மீதமுள்ளன
போக்கு மஹிந்திரா கார்கள்
டியூவி 300

Rs.10.80 லட்சம்*

அறிமுக எதிர்பார்ப்பு: பிப்ரவரி 15, 2021

எஸ்204

Rs.12.00 லட்சம்*

அறிமுக எதிர்பார்ப்பு: அக்டோபர் 15, 2022
car insurance companies பிரபலம்