மஹிந்திரா கேயூவி100 என்எக்ஸ்டி பயனர் மதிப்புரைகள்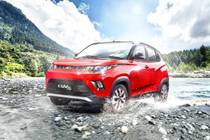 Rs. 5.66 - 7.28 லட்சம்*
*எக்ஸ்-ஷோரூம் விலை
புது டெல்லி
மஹிந்திரா கேயூவி100 என்எக்ஸ்டி பயனர் மதிப்புரைகள்
All (187)
Mileage (63)
Performance (23)
Looks (36)
Comfort (47)
Engine (27)
Interior (13)
Power (26)
மேலும்...
நவீனமானது
பயனுள்ளது
VERIFIED
CRITICAL
It's a safe and budget mini SUV. I have k4plus petrol red and it's a mini monster. I get 16km/lit on high way and it's good mileage. Perfect car for family. Design is very good both exterior and interior. மேலும் படிக்க

I want this car for my family and it comes under 6 lakhs. This is in my budget and it has low maintenance costs.

This is a good car. I'm using this car for the past 2 years and till now didn't get any problem and really a good surprise to discover this Indian car.

Very good and smart car. Comfort to drive. The designing of the car is excited for me. It's always like new when I see this car.

Very poor mileage and boot space is very small. Less maintenance cost but the engine is a bit noisy.

Excellent performance and nice car ac is a very good and nice performance.

Its good with this range, stylish after service mileage problem also solved. Very good car. Mahindra mini versions.

1. Buying experience: It is always good with any seller, I mean you are giving the business by putting your hard-earned money in their pockets. 2. Driving experience: There will be loud noise always entering in your cabin, the engine lacks that punch, fuel economy is poor. The only good thing is the air conditioning this is extremely good. 3. No co...மேலும் படிக்க

This is a car and also a mini SUV. I was searching for comfort, space, and performance. The mileage is 2km/lit, extra no other rivalry for it.

Power is missing at hill areas even in first gear and sudden power lag for many seconds. It gathers power after a while doesn't know what's the matter. The second thing is if you run your car at 50 km/h while on curves shifting gear down and apply sudden brakes. It fails because brake paddle touches with steering rod you have to move steering sudde...மேலும் படிக்க

We bought a Mahindra KUV100 at Kakinada. This car is very safe and comfortable. This car has only two airbags but it is safe.

Great Experience with muscular Mahindra KUV 100. Great suspension excellent stability. Little bit pick up the issue but it is okay.

Super duper car my favourite. I want this car looks very quite or detection Mahindra Kuv 100 full defence their moble.

Good car with strong body, diesel engine gives good performance and mileage in this car and a very safe car, although some things can be improved like cabin noise insulation and wheel size, can be increased a little, but other than that there is no problem and I do have the diesel variant, it's just good in everything. மேலும் படிக்க

The car is great and has a great interior space, the car has a quick pickup.

Very nice car... Have installed CNG, very good mileage of 27 on CNG. The safety is very good. Very spacious 5 people can sit comfortably. Engine is very good.

Everything is awesome in this car I like very much this is a familiar car I love Mahindra vehicles.

I have a top-end model of Mahindra KUV 100. It's really a good car. It gives you feel like an SUV.. it gives mileage of 16-17. I am driving this for the last 18months but no complaints so far. My family enjoys every ride with this feature-loaded car. The navigation system, rear parking sensors, and rear cameras make the driving easy. மேலும் படிக்க

The car is good with great comfort and style with a great mileage I will refer this car to all my friends and relatives

I regret buying this car, has the worst mileage. Low pickup, engine noise, worst quality Plastic used in interior & excess body roll.

This car is best in segments and very comfortable to drive, low maintenance cost, best mileage, perfect for all safety feature, big legroom, good ground clearance in the segment. You can enjoy like SUV in these segments, the top variant is looking like a sports car with dual-tone colour. The red and black dual-tone colour like luxurious sports. I u...மேலும் படிக்க

It is the best car I've ever driven in this budget. It is the only car which I like most all because of its comfortability and big ground clearance. It also has good leg space. It also delivers better mileage than the other SUVs on the road. Great space, unbelievable mileage, amazing comfortability. In short, it's a great choice for your new SUV KU...மேலும் படிக்க

Nice city car and it comes with good space and great safety features. This is the best car in this segment.  

Very nice car in this segment and it has the best pickup in Diesel engine and petrol engine more space is available in this segment all car suspension is good working

Mini SUV, with a good fuel economy of 14-15kmpl in city condition, on the highway it gives 17-18kmpl, bold and stylish design. Spacious and perfect for long drives, suspension rock solid with powerful AC. In true sense it is really a cool utility vehicle. Using this vehicle for the last 2 years. மேலும் படிக்க

Top class car in this segment because of its looks and good performance.

I purchased my first car form Mahindra the KUV100 k4+ and it fulfil my needs which I want in my first car, good mileage and boot space. It's a mini SUV and six-seater and it is suitable for a small family who wants to have a feeling of SUV. It's a low budget SUV with good mileage. Interior is also good for any kind of road, thanks to Mahindra for m...மேலும் படிக்க

The pick-up is good, ground clearance is fine, road grip is awesome, the mileage is tremendous and boot space is good.

Mahindra KUV100 bad part his low average. It makes a lot of noise when it moves. 6 seater option is available, but 3 people do not sit comfortably in the front row. The best part is lots of space and low price. மேலும் படிக்க













Not Sure, Which car to buy?
Let us help you find the dream car

Are you Confused?
48 hours இல் Ask anything & get answer
கருத்தில் கொள்ள கூடுதல் கார் விருப்பங்கள்
கே யூ வி 100 ன் க்ஸ் டீ மாற்றுகள் இன் பயனர் மதிப்பீடுகள்
*புது டெல்லி இல் எக்ஸ்-ஷோரூம் இன் விலை
பயனர்களும் பார்வையிட்டனர்
9 சலுகைகள்
மஹிந்திரா Kuv 100 :- Cash Discount அப் to... ஒன
1 நாட்கள் மீதமுள்ளன
போக்கு மஹிந்திரா கார்கள்
தார்

Rs.9.69 - 12.49 லட்சம்*

அறிமுக எதிர்பார்ப்பு: அக்டோபர் 02, 2020

டியூவி 300

Rs.10.80 லட்சம்*

அறிமுக எதிர்பார்ப்பு: dec 10, 2020
car insurance companies பிரபலம்