டட்சன் கோ பிளஸ் பயனர் மதிப்புரைகள்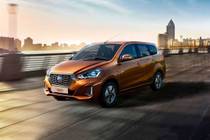 276 மதிப்பீடுகள்
Rs.4.25 - 6.99 லட்சம்*
*எக்ஸ்-ஷோரூம் விலை புது டெல்லி
டட்சன் கோ பிளஸ் பயனர் மதிப்புரைகள்
ஆல் (276)
Mileage (71)
Performance (20)
Looks (60)
Comfort (70)
Engine (30)
Interior (26)
Power (27)
மேலும்...
நவீனமானது
பயனுள்ளது
VERIFIED
CRITICAL
Now this car needs the facelift version and some improvement on technology. Need maximum safety and also the engine power, but overall the car is the best, 7 seater family car on this budget.மேலும் படிக்க

I can say one-word "family budget car". Within my budget, I got all features. I am driving this vehicle for 3 years and ran 28k km. Comfortable driving, utilizing maximum space, in short. I am fully satisfiedமேலும் படிக்க

I can say one word "family budget car". Within my budget, I got all features. I am driving this vehicle for 4 Years and ran 24k km. Comfortable driving, utilizing maximum space, traveling with the entire family.மேலும் படிக்க

The worst car. Please don't buy it. This car gives only 13 km mileage.

Back seat not so useful. Very small seat and not comfortable Other things are good. Back seat not so useful. Very small seat and not comfortable Other things are good.

Milege is so poor that I can't explain. It is only 10 km/ ltr. Don't go on less price. Please go for some other car by spending a little more than this.

Hi, I am having Datsun go PLUS 2018 model 7 Seater, last week We (Family and kids) travelled to Dhangadi Nepal from Chennai, really it was a super trip. Drove 5600 KM in 20 days, Datsun hasn't given any trouble for us, and the performance is really good. If we drove faster then mileage will be less, if you drive 70 to 90 it gives around 18. only th...மேலும் படிக்க

Overall good family car at a low cost. Comfortable seats, but the third row are not comfortable for passengers

Very bad experience. Is main sound bhi bahot karati hai. Vibrate bhi karati hai

One of the worst cars in mileage. Mileage was 21 km per liter, but even I'm not getting more than 12km.

Guys, I suggest you all if you thought to buy any car then I request all of you buy this car. This car is amazing.

Very good Car at this price. A true value for money. Great features... Excellent I love this car... Good boot space...Mind-blowing.

Good looking car and advance feature best in family and comfortable for a long journey. Low maintenance cost and features are great

I purchased Datsun GOplus at 2018 it was a budget-friendly car and 7 seaters at a very low price of below 7, while coming to the other 7 seaters they are around 12-15lakhs, but the performance of the car is pretty good but the comfort was the main issue in Datsun cars, the legroom was not pretty enough and, the car was pretty short that at 6feet pe...மேலும் படிக்க

Nice car with all the features as required, compact safe, and within the budget for a small family a must-buy for sure.

I am using it from 2016 Jan. Almost 4.5 yrs are gone. Superb to drive. No need to say 'no place'. Pick everyone. Even though the 3rd row looks smaller, slim people can sit comfortably. I had long travel, tour with 7 people a few times. Fine mileage, You may feel comforts as cons. But, at this price range, we can't expect more. Even with a budg...மேலும் படிக்க

Few features in-car need to modify or change, Gear needs to be bit stylish overall look is good.

Nice car but height is less, interior is good and the diesel variant may be the best looking car in this segment.

Best 7 seater car in the price range with good mileage, but it is good Enough for mIddle-class. The family Consists of 6 Peoples in any way a nice car.

The best car in this price range good mileage and best comfort perfect for family outings its pickup could be improved but overall it is good

Datsun Go Plus has good performance in the affordable price with good sitting capacity. It is available in stylish colours and has a smooth starting.

This is the best car in terms of fuel maintenance and also spacious. I recommend this car.its a good family car.

Dastun Go Plus has the best looks and superb quality. This car is a very good 7 seater car under 5 lakh for family.

The car is excellent in this budget. The main reason for buying this car is the affordable price. The Engine is so good, the turning radius is so good, the gear smoothness is best, but the problem is with the lightness of the body. Maintenance cost is low. Need for Improvement in safety features and other features. There is need for Improvement in ...மேலும் படிக்க

I have bought Datsun GO+(T) on 25 Dec 2015. Best car in a limited budget. It is very comfortable for a small family, Good for multipurpose use, good drive and good mileage.மேலும் படிக்க

It is the most popular car in India. This is a very good and safe car.

It is a very nice looking & comfortable car. It delivers good millage and offers good safety.

Amazing car at an economical price.













Not Sure, Which car to buy?
Let us help you find the dream car
கருத்தில் கொள்ள கூடுதல் கார் விருப்பங்கள்
கோ பிளஸ் மாற்றுகள் இன் பயனர் மதிப்பீடுகள்
*புது டெல்லி இல் எக்ஸ்-ஷோரூம் இன் விலை
பயனர்களும் பார்வையிட்டனர்

Are you Confused?
48 hours இல் Ask anything & get answer
1 சலுகை
Exchange your vehicles through the Online ...
31 நாட்கள் மீதமுள்ளன
car insurance companies பிரபலம்