Nice well n good to drive
Nice well n good to drive
I have been using indigo ls for more than7 years and it had been driven for more than 2 lakh kilometer,still working beautifully without any engine complaint.Best class vehicle in mileage and best in sedan type for long travel .Spacious inside ..handling is extraordinary the car will be completely in drivers control whatever speed he takes.The only one disadvantage I noticed is the slow pick up.It takes seconds to reach our desired speed..Suspension is well and good and the best part of Indigo,its worthful for its price.If indigo had been altered it will be the best vehicle than any other sedan type cars in all its classes whether in mileage or speed or comfortable or handling or suspension whatever may be..It will be the best and the main advantage of indigo is its maintenance.Maintenance cost will be too low for indigo ls.Its suitable for all type of travels for eg ,for a long trip or to drive through a hilly area or for professional taxi drivers to ride in a city or to drive along with a family,for whatever purpose indigols, will be suitable.I had driven indigo for more than 3 hours at a strech and it didnt gave me any problems.Though it had its own engine sound it wont disturbs the passenger and the driver.The ground clearance is also a main factor and its well designed in indigo ls.For city travel its more suitable.The outer body is more stronger and there would be no fear of spending more money if the outside body gets scratched.Its engine is much more powerful and everlasting than any other cars which i have been using.I used to drive the car roughly but yet it didn't have any serious problems in it.Regarding mileage my car(diesel) is giving about 20 to 23km/lit.Handling is also well in indigo,I have noticed that in most cars when we reach nearly 120 km/hr we will lose our control and the car gets shaked due to wind or any other external agents,the maximum speed I reached in indigo ls is 127km/hr on Thirunelveli-Chennai bypass,though i had a fear in my mind it didn't gave me a feeling of fear,it was going smoothly on its way in a perfect manner. Moreover its a middle level family car and most of the middle class people can afford it.I had used swift desire ,maruti 800,honda city,beat and i10.Although they are good in various things like sudden pick up or various interior design etc, they wont match up to indigo when it comes to all fields.One more thing is the service quality,tata has good quality of service centers and their genuinity to the customers should be apprecaited.Finally ,the best suited car for Indian roads.
Write your Comment on டாடா இண்டிகா சிஎஸ்
1
V
vimal
Jul 3, 2020 9:53:25 PM
I have driven 232000 kms in 3 years 9 months .... TATA INDIGO ECs
பதில்
டாடா இண்டிகோ ஈ.சி.எஸ் பயனர் மதிப்புரைகள்
அடிப்படையிலான
39 பயனர் மதிப்புரைகள்
ஆல் (39)
Mileage (23)
Performance (7)
Looks (25)
Comfort (30)
Engine (16)
Interior (8)
Power (11)
More ...
நவீனமானது
பயனுள்ளது
CRITICAL
Bought new Tata Indigo eCS VX CR4 in Nov 2014. So far driven the car for more than 56500 Kms without investing any amount so far in the vehicle for break down. Only the r...மேலும் படிக்க

This car is for the people who are on wheels and have to travel a lot. If you are looking for comfort and cost effective car then definitely go for it. I own this car for...மேலும் படிக்க

AROUND THREE YEARS BACK, I WANT TO PURCHASE MY FIRST EVER BRAND NEW SEDAN CAR ,KEEPING IN VIEW ITS STURDINESS(SAFETY OF MY FAMILY),COST ,MILEAGE AND COMFORT. SO, I VISIT...மேலும் படிக்க

I have been using indigo ls for more than7 years and it had been driven for more than 2 lakh kilometer,still working beautifully without any engine complaint.Best class v...மேலும் படிக்க

Exterior Very good look. but there are gaps between doors and boday. Interior (Features, Space & Comfort) Nice look, good boot space... feel verymuch comfort inside. ...மேலும் படிக்க

Am using Tata indigo CS for the past 3 years and till date my machine is working fine. Maintenance of the car is also very less and is also giving very good mileage (am g...மேலும் படிக்க

I am recommend this car for people who is having driver as it might not best suits for self driving but i can say it is 100% best car for money what you have paid. It lo...மேலும் படிக்க

Iam having tata indigo ls ,since 6 years iam satisfied with low maintainance, good mileage,good braking system,good pickup, good A.C effect. iam feeling very happy with m...மேலும் படிக்க

எல்லா இண்டிகா ecs மதிப்பீடுகள் ஐயும் காண்க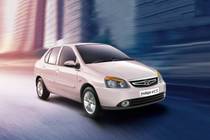 Rs. 4.85 லக்ஹ - 6.24 லக்ஹ*
இந்த கார் மாதிரி காலாவதியானது
போக்கு டாடா கார்கள்
டாடா சீர்ரா

Rs.14.00 லட்சம்*

அறிமுக எதிர்பார்ப்பு: ஜனவரி 10, 2022

டாடா ஹேக்ஸா

Rs.14.00 லட்சம்*

அறிமுக எதிர்பார்ப்பு: ஜூன் 14, 2021