not a BAD car
not a BAD car
Look and Style NOT GOOD Comfort GOOD Pickup AVG. Mileage GOOD Best Features SPACE Needs to improve QUALITY Overall Experience GOOD basically it is not a new car it is a chopped version of verito .so it's price is little bit about 7% cut from the verito models and else every thing is same. the feel and driving experience in the vibe will be same is as verito which is very good in long run and in highways, comfortable and stable on breaking and speed not so much speed like 130-140 but on 80-110 this car will perform good stability and breaking as verito does.but the question is for a very little margin from verito sedan who will left the gace of sedan . the people who have less pace in the garadge or parking in house can opt vibe othe wise no need to go for vibe for the margin of less than 50k. if the company reduce the cost much less then the quality of the patrs and body will dicrease as maruti doing these time . over all is good car but on the service point of view the manindra service for verito car is very poor and spare parts are very very costly and not available easily . the reason is that Mahindra have lot of vehicles in the pipe line . they never take verito seriously on service point of view as they took XUV500.
Write your Comment on மஹிந்திரா வெரிடோ வைப்
1
p
purnachandrarao
Sep 19, 2013 9:58:33 AM
cost of the vibe is too high and hearing service is very poor , cost of the spares is also very high and nonavailability
பதில்
1
P
pradeep
Jun 20, 2013 6:27:18 PM
I am using Mahindra Verito for last 9 months. Verito is a good car in its class, and what to say about Renault engine, its simply superb. Good mileage, good for long drive, stability is awesome. But, don't know, why M&M has completely ignoing on the front of service factor. Have experienced very bad in terms of routine services. Unavailability of spare parts, cost of spare parts is tooooo high, compared to competitors. Even spare parts of Skoda are lower than Verito ! Very poor service of service points, I have experienced. So we can say that even the child( Verito ) is extremely good, parents( M&M) are not taking good care of their child. M&M should have to improve on this front.
பதில்
1
t
tanvir
Jun 15, 2013 8:13:30 PM
yes it may be too early to say that the car will success of not. but review from the past although verito is a very good car in driving and mileage but behind the success of a car a very good hand of company must how it deliver it to the customers and create a hype once a selling process pickup and number increases in the market the car is successful . Mahindra and Mahindra has a lot of running own very successful vehicles in the pipe line so M&M never took logan (verito) very seriously never take care of service of verito , parts availability and logan and verito is adopted child for M&M etc. so despite of a good car not being successful . If M&M will folly the same track then the vibe will fail completely other wise M&M should do diffrent
பதில்
மஹிந்திரா வெரிடோ வைப் பயனர் மதிப்புரைகள்
அடிப்படையிலான
22 பயனர் மதிப்புரைகள்
ஆல் (22)
Mileage (13)
Performance (5)
Looks (12)
Comfort (10)
Engine (9)
Interior (6)
Power (5)
More ...
நவீனமானது
பயனுள்ளது
CRITICAL
The car Mahindra Verito Vibe has one of the best cabin space and Drivability with the addition of Renault 1.5L Engine which helps me take control of the roads on-dem...மேலும் படிக்க

Mahindra Verito Vibe is an excellent car. And the features are more than Vitara Breeza and Creta. If you want to buy a new car then just go for it.

This is a very nice family car with brilliant pickup and simple a classy interior and with larger boot space.

The car is something that is mind-blowing. I love the look of the car. It offers an excellent driving experience. It is very smooth and easy to control and is very r...மேலும் படிக்க

Experience with this car is unbelievable. It gives a mileage which is beyond expectations. Talking about the interior design, it's not up to the mark.

Mahindra Verito Vibe is the most attractive car, I'm quite impressed with its unique looks. It has a fantastic design. Vibe is a hatch but bigger boot space. The rear des...மேலும் படிக்க

Using Mahindra Verito for past 3 years, no issues in the engine(1.5 L Renault engine), good control at high speed(130+), braking is excellent (ABS). Mileage is 17 to...மேலும் படிக்க

எல்லா வெரிடோ vibe மதிப்பீடுகள் ஐயும் காண்க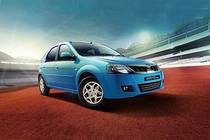 Rs. 6.58 லக்ஹ - 7.51 லக்ஹ*
இந்த கார் மாதிரி காலாவதியானது