சிறந்த Indian Make with Worst Response
Best Indian Make with Worst Response
Look and Style: Nicely done but Indian Mean mentality in cheap quality is observed every where...The floor mats were pinned...The mats are coming out...The front AC sponge safety gum got removed within 15 days and oozing out of the grill.....The plastic quality has to be improved....the cover for front head light out of the position.... Comfort: The front driving seat is commanding and excelllently designed for driving comfort...The cushions might have been better.... Pickup: I could find lag in second & third gear at 1500 RPM but after that it jumps and ready to boost and all the vehicles on road can be seen in rear view mirror.... Mileage: Hope am only the First Woman to attain 21.6 KM in city driving and 19.8 with AC in city (According to DDAS system installed in the vehicle).... at present am driving in city only need to check highway mileage....but am very much happy with mileage....have driven 770KMS till date.... Best Features: Price of the vehicle to that of Sedan....all features at reasonably priced vehicle like DDAS, 3 pin charger points, power windows. music system Needs to improve: Middle row seat is worst for comfort...free backache & medical check-ups at regular interval, quality & finish need to improve, Overall Experience: Experience with the vechile is Good and am feeling like it has brain and heart to understand that hard earned money spent by me should be valued compared to the Mahindra management.....worst sales...worst management without ethics...only money oriented (especially Hyderabad Division VVC Motors)...rude and arrogant Managers.....till date nobody contacted me from Dealer and Mahindra Division as stated at the time of delivery ...seems they want money and delivery of vehicle not human beings...great keep it up ...life is a vicious cirlce....TODAY with the need of people demand for vehicle you may be flying in colors but tommorow downfall may come they you will repent.....
Write your Comment on மஹிந்திரா குவான்டோ
1
k
kamal
Apr 21, 2016 11:02:10 AM
Hi mam, what is DDAS. Do you comfort with this car? I am going to buy a new Quanto car, suggest me.
பதில்
1
A
ankit gupta
Dec 17, 2015 8:40:42 PM
Mahindra & Mahindra failure products in market
பதில்
1
p
paramjeet
Dec 5, 2015 6:56:27 PM
good smoole and big both enjoy car but 3 maber back site and 2,mamber farent lagage are 3 row youre taravling are good
பதில்
மஹிந்திரா குவான்டோ பயனர் மதிப்புரைகள்
அடிப்படையிலான
44 பயனர் மதிப்புரைகள்
ஆல் (44)
Mileage (35)
Performance (3)
Looks (37)
Comfort (33)
Engine (11)
Interior (12)
Power (12)
More ...
நவீனமானது
பயனுள்ளது
CRITICAL
Seeing the successful journey of Xylo, Mahindra seemed to be experimenting it in micro family class. But the confused designers have made me think that is it a SUV, a hat...மேலும் படிக்க

Myself Tushar Patel from Ahmedabad, Gujarat. I had purchased Mahindra Quanto model C-8vehicle in 23-OCT-2012, from "Punjab Automobiles (India) Private Limited". I have al...மேலும் படிக்க

I am driving Quanto C8 from last two years and feel that I have been cheated with a worthless product. The car is not at all smooth to drive. The company has not tested t...மேலும் படிக்க

This car seemed very exciting when it was launched and I purchased in that hype but unfortunately the dealers very poor after sales services have forced me to change my o...மேலும் படிக்க

Request mahindra to make quanto automatic gear shift with convertible and this will stand out from other compact SUVs. Definitely youth of india will reach this car soon ...மேலும் படிக்க

Look and Style: Very good. Satisfied. Comfort: Last two seats are quite uncomfortable for elders. But best for children. You can also use it as a big storage space...மேலும் படிக்க

Look and Style: I recently brought C8 Quanto and am very satisfied with its performance. The car looks fairly good. A tall, compact reasonably priced SUV. Comfort: The fr...மேலும் படிக்க

Look and Style: Good..except for the excess height which is actually a minus..both regarding the looks, proportion and stability during turns (excess body roll due ...மேலும் படிக்க

எல்லா குவான்டோ மதிப்பீடுகள் ஐயும் காண்க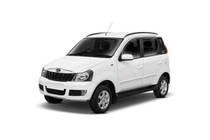 Rs. 6.99 லக்ஹ - 8.55 லக்ஹ*
இந்த கார் மாதிரி காலாவதியானது