மைக்ரா DCI K9K ஐஎஸ் better than ஸ்விப்ட் DDIS
Micra DCI K9K is better than Swift DDIS
I own Cute Spring green Micra DCI XV. I want to share why I settled down with Micra DCI K9K over new Swift DDIS. Some may argue that Diesel car is economical only you run more than 2000 KM/per month. It is not true now. See the bellow calculation and you will understand why diesel car still economically even you are running 1200 K.M Petrol per litre Rs 72/- Mileage of petrol car(Example Micra Petrol) in city: 14 km/l running cost per km: Rs 5.1 Total running cost for 1200 km : Rs 6171 Diesel per litre Rs 42/- Mileage of most efficient diesel ( Example Micra DCI ) car in city: 20 km/l running cost per km: Rs 2.1 Total running cost for 1200 km : Rs 2520 Difference: Rs 3651/- Lets assume Diesel car 1 lakhs more than petrol car. The EMI difference due to cost difference is Rs 2150/- I.e within 27 months you will recover the additional cost you invested on Diesel car. Even before to it if the price difference between petrol and diesel goes up or running more than 1200 k.m per month. Let's talk about My Cute Micra DCI Pure Drive Exterior Really looks great in spring green. It is much better than any green color car ( Figo or Beat) in the market. Please google it and you know why I'm saying it. Nissan won color awards for their unique colors. Interior (Features, Space & Comfort) Nice and simple dash board, Decent Audio system, Very good FM Receiver, Nice , improved seats and head rest on rear seat on DCI pure drive model. Engine Performance, Fuel Economy and Gearbox The engine delivers both in terms of pickup and linear response. Those who worried about diesel car's clutch please forget about it. Its is almost like a petrol car. No turbo lag at all. Less noise than Indica, Liva and Figo. Smooth gear shift and better millage than Indica. So far I've covered 1000 K.Ms both city and Highways. The onboard computer shows 22.3 KM/Litre. In city 19-20 KMs/L and Highways 22+ KMs/L with mix of AC turned on at NH and SH roads when driving at the speed of 80-90 KM/Hour. It is good to have 80 KM/H at 2000 RPM. This is my second car. When I took the car from the showroom, odo meter was showing 60 kms and average mileage was 12 km/l. They told that it will increase steadily over covering 1000 k.m. It is true. Now it was showing 22.3 k.m/l after covering 1000 kms and now it shows 22.1 after 1600KMs. The Maximum I reached was 22.7 KMs/l during long trip to Pondicherry at the speed of 80 KM/h. I also own Indica DLS and covered 82,000 KMs and I drove swift for 1000 K.M. The Micra's DCI engine is agile as Swift DDIS. Ride Quality & Handling Easy to turn. Good at Highways too. Tilt steering allows to easy access of steering. Just keeping a finger on steering enough while driving in Highways. Deal breaker: What made me to settle with Micra over new Swift Initially I booked new swift ZDI on July 15 2011, a month before it was introduced in India. Dealer informed that I was the second customer who booked that model and he promised me that I would be getting it in 30 days. No one knows the exact cost of the car at that time and I was assuming it would be around 7.1 lakhs on road. I went to the showroom on the Aug 17 2011 to see it first time and it was priced at 7.48 lakhs. I liked the interiors and exteriors. I just sat on back seat and found that my head was just half inches bellow from the roof. Most of my family members are around 6 feet tall. I was little disappointed because after paying 7.5 lakhs, the rear passenger who is 6 feet tall should take care his head and neck while traveling on bumpy roads. I also felt little discomfort while entering and exiting the car compare to Micra. On the day they informed that I was 15th in the list of ZDI because who booked older Swift VDI had shifted to new ZDI model. So my waiting period entered into 2 month. Then I started looking for alternate diesel car. I did test driving on Figo TDI Titanium, Liva Petrol ( diesel was not available at that time) and Micra DCI. I felt better in Micra because of its space, ambiance, fit and finish inside the car. I can say Micra is best and Liva is worst. One of my friend who was having Honda Civic informed that Micra's DCI Engine is much better engine than Swifts DDIS (originally Fiat's MultiJet). The fact is DCI K9K Engines sold more in numbers than DDIS/Multijet. It triggered me to do second test drive on Micra DCI and fell in love with Micra. I was double happy to book Micra because my daughter wanted a green color car which was not available in Swift. I was little skeptical about missing ABS even in higher version of Micra. In India 99% of the car ( also other vehicles) running without ABS. I'm going to stay in Chennai 95% of the days in a year. Final Words Both engines are same in all aspects. DDIS is slightly quieter engine than DCI. Since Micra have better cabin insulation I hardly hear any noise. Compare to Swift VDI it is better VFM. Price difference between Swift VDI and Micra Diesel XV is less than Rs 15k. But you are getting Audio and Driver side SRS in Micra XV. It is worth it. Areas of improvement-Seat height adjustment missing (I'm 6.1 feet. It would be better if seat height adjustment is in place which will improve comfort level even better). ABS (it will be very helpful during panic braking on highways especially in wet surface).
நிசான் மைக்ரா பயனர் மதிப்புரைகள்
அடிப்படையிலான
122 பயனர் மதிப்புரைகள்
ஆல் (122)
Mileage (47)
Performance (24)
Looks (41)
Comfort (35)
Engine (22)
Interior (24)
Power (21)
More ...
நவீனமானது
பயனுள்ளது
VERIFIED
CRITICAL
It's packed with the necessary features right from the base variant. The ride quality is amazing. Clutch is a little tight. It's hard to engage 1, 2.

Good car but high in maintenance cost with a great mileage but the problem is lower ground clearance.

This is a perfect family car to drive in the city traffic areas. With great looks and style and a powerful engine.

I am fully satisfied with my Nissan Micra car. It is a family-friendly car easy to drive in cities. And ladies also can drive this car easily. My car is a diesel car and ...மேலும் படிக்க

Nissan Micra is a power-packed car. It is strongly built and comes with decent features. According to me, the main drawback is that the height of the driver seat is not a...மேலும் படிக்க

Nissan Micra diesel car is very good, comfortable and has good safety features. Car's mileage is amazing and also has some issues with bumper lock and maintenan...மேலும் படிக்க

One of my best choices ever. Wonderful driving experience. Ergonomics are amazing. Pure driving joy and amazing performance. Spacious, smooth, nice suspension, amazing ha...மேலும் படிக்க

எல்லா மைக்ரா மதிப்பீடுகள் ஐயும் காண்க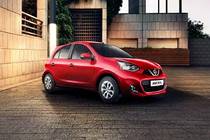 Rs.5.99 லக்ஹ - 8.13 லக்ஹ*
இந்த கார் மாதிரி காலாவதியானது
Write your Comment on நிசான் மைக்ரா
8 கருத்துகள்
1
s
sogith
Jun 8, 2012 7:02:06 PM
sir,i agree that micra is a good car.but not the best in class.just test ur micra by pushing it into a hard corner and then u wil come to know about the swifts stability also swift has got better breaking efficiency than the micra.plus swift always enjoys the benifit of good service netwok and resale value whic h I dont think u wil get i ur micra
Read More...
பதில்
Write a Reply
1
A
avinash
Jun 6, 2012 4:11:35 PM
Highly appreciated Mr. Prabhu's Review. Very simple, elaborate and covering many aspects. I had test driven Micra XV in March 2011. That standing near the car time I had felt uneasy of engine sound. Then I have test driven other cars but somehow did not select any. Last fortnight I had tested Sunny XV. So Today 6th June 2012, I have again test driven Diesel Micra XV. When I read Prabhu's reviw I felt he was writing my review. I did feel same about lack of ABS but concluded not essential as I have been driving MATIZ for 12 years and Nano for 2 years without ABS. ABS good but not essential. Let prices be reasonable. I think it is fancy idea to add high price to differentiate between higher and lower version with ABS etc. Also I have not seen any SRS bags come in play ( saving passengers) in any accidents. At Goa car accidental deaths of drivers per year are rising. Regarding prices I have noticed the Goa dealer has quoted Ex Showroom price as in Delhi ( 5,96,408)where as it should have been Rs. 5,69,670 at Goa and Pune. Even Kolhapur price is 5,72,970. I request Mr. Prabhu, can you please or any one among the readers or from the CarDekho Team write or sms to me the latest price of Micra XV and XV Premium in Diesel /Petrol. Avinash Sonawane 09422438185 or email avinash@nio.org
Read More...
பதில்
Write a Reply
1
p
prabhu
Mar 31, 2012 10:37:02 PM
Yes. It is true. I measured it my calculating KMs given for Full Tank to Empty on Odo meter. On Highways: When speed is 75-85 KM/H then mileage is 23 KMs/L When speed is 90-100 KM/H then mileage is 21 KMs/L When speed is 100-120 KM/H then mileage is 19-20 KMs/L Inside the city: 19-20 in avg traffic condition. I recently covered 10000 K.Ms in My Micra DCI. Cost for service: Rs 3500/- ( for Engine OIL, Filters, etc) Rs 250 for vehicle pickup and drop at your door steps. Since the service station is 40 KMs from my home I went with Vehicle pickup option. I felt it is much convenient than going for service station directly.
Read More...
பதில்
Write a Reply
×
We need your சிட்டி to customize your experience