நியூ ஸ்கோடா ரேபிட் பயனர் மதிப்புரைகள்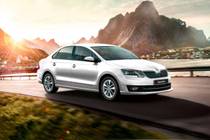 Rs. 7.49 - 13.29 லட்சம்*
*எக்ஸ்-ஷோரூம் விலை in
புது டெல்லி
நியூ ஸ்கோடா ரேபிட் பயனர் மதிப்புரைகள்
All (254)
Mileage (77)
Performance (48)
Looks (73)
Comfort (84)
Engine (65)
Interior (49)
Power (47)
மேலும்...
நவீனமானது
பயனுள்ளது
VERIFIED
CRITICAL
Best in its class to drive on the highway as we R 50%drive, daily 100 km. Approx, if Skoda director of India fixes service charge minimum then I think everyone can think to buy Skoda, Toyota is known as after-sales service is minimum, so Skoda can also do. மேலும் படிக்க

I have been using the older version of this car but I would highly recommend this car to anyone willing to own a car.

The car is in excellent condition and the interior is also good as new. Driving pleasure and luxury vehicle.

According to me, Skoda Rapid is a nice car that offers good comfort and safety features that make sure I can enjoy every drive with it. I am using this car for the last 1 month and am completely surprised by the performance. The pickup of Skoda Rapid is good and handling is easy & safe. மேலும் படிக்க

I am using Skoda Rapid Car and it is giving me good performance with good mileage. Also, it keeps me safe while driving with Hydraulic dual-diagonal circuit braking system vacuum-assisted, Disc brakes with inner cooling, and many other safety features. The seats are also comfortable with Skoda Rapid and it runs smoothly. I love this car and I recom...மேலும் படிக்க

I purchased Skoda Rapid Car about 2 months back and will suggest this car to others also. It performs so well and it gives me good mileage also. Along with that, it has so many features that improve its performance, comfort, and driving experience. Its fuel tank capacity is high and it has many features that are not common in this price range. For ...மேலும் படிக்க

.I am using Skoda Rapid Car and it provides me comfortable and safe driving. This car has Adjustable dual rear air conditioning vents on the rear center console, Dust and pollen filter, Bounce-back system, FR & RR side dark green glasses with infrared cut, and many other features that ensure my safety and give me a safe drive. I am completely satis...மேலும் படிக்க

I bought this car last month on my wedding anniversary. I use this car for a daily purpose and so much happy with its performance. It looks good as it has the best headlights and also it comes with good interior features that ensure my safety and comfort. Also, Rapid is giving good mileage in the city area till the date. மேலும் படிக்க

Yes, it looks older. But if it continues for the next 10 years also it will be looking premium. Very good engine TSI performance on a high way. No outer noise. It's a complete luxury package and rides quality. மேலும் படிக்க

I just went to test drive new Skoda Rapid TSI. I loved the car and the experience of the car. My expert Saket has explained each and every single point of every car in the showroom. At present, I love Rapid car. மேலும் படிக்க

Overall, this product has completely justified The interiors could be made more appealing. The ambition model could have the AutoDimming IRVM, really needed. And, also the Cruise control should be incorporated in the ambition model. மேலும் படிக்க

Amazing car with good comfortable and great mileage. Safe and an awesome package. Overall, 1.5 TDI with DSG is a delight to drive.

One of my favorite cars and best in carl mileage and comfort ride and low cost of maintenance.

The mileage is not good and has jumping problems and the other is seat covers. The headlight is not good on the high way. Otherwise, it is good.

Safety is the topmost priority in date and Skoda is launching a car which does not have must-have safety features like brake assist, hill hold assist, electronic stability control/vehicle stability control tyre pressure monitoring systems even in the top variant. Only ABS, EBD 2 safety airbags is just not enough. In developed countries, cars are eq...மேலும் படிக்க

This car is super in the budget. The most thing, I like is its safety and build quality. Also, the features at this price.

Awesome car with the build quality, ride and handling... The 1.5 TDI CR powertrain produces 83KW(~110bhp), you will definitely feel it when you depress the accelerator and at any speeds... The DSG mated with this engine gives you lightning-fast up and downshifts... The brakes are superior to any other vehicle at this price point and the brake assis...மேலும் படிக்க

Supper car Awesome experience. I like this car and I hope I purchase it in a short time. Because all facilities are available in this car.

This is my 1st car & as I said it's awesome, it's really a perfect car for me. The performance of the car is very good. Mileage is also good. I claimed 23kmpl mileage on the highway. It's totally satisfying car for me, comfort level is also good and it looks so sexy. I'm feeling lucky to buy this car. மேலும் படிக்க

Best car in features, safety & drive experience, also service is very well I recommend to all to once enjoy the ride of this car

Absolute no worry machine, very stable, easy to manoeuvre, good turning radius, at driver seat feel like a cockpit, great looks, elegant car, though its a sedan but very easy to control and drive, ample boot space and comfortable seating at back, very good suspension. 1.5-litre diesel engine really roaring like a tiger... மேலும் படிக்க

It's an awesome car a beast to drive best in driven comfort powerful engine very safe super pick up best in class comfort level also there for driven for sitting after-sale service is great in Skoda sevice package to make. It reasonable to afford even buying experience was great easy finance must buy a car. மேலும் படிக்க

Great car and very stable with all features one looks for Sleek. Study smooth refined solid safe great family car. Go for it, better than Honda City and Verna Limited addition is to die for European build. Flashy and smooth, engine doors and space are word-class Rubber paint and galvanising make it long-lasting. Excess 100 kg gross weight adds to s...மேலும் படிக்க

Awesome, for people who want performance along with all the comfort and safety. 0-100 in 9 seconds, just like a rocket.

A Full 5 Stars for The Skoda Rapid 1.5 TDi. I have the Ambition Model of the car, and it is feature-loaded. It's got everything I need during a car ride. It misses out on the new infotainment screen, but I don't mind it, It's got Bluetooth and that's good enough for me. The car is an absolute beast, delivers close to 17KMPL in the City with the Man...மேலும் படிக்க

Driving Skoda Rapid manual petrol is seriously amazing. The car has great suspension, the throttle is also great. It's been 1 and a half year of having it, and maintenance is also normal. Mileage is too good. I am fully satisfied with the car. மேலும் படிக்க

Excellent pickup in low as well as high Revs. Classy car with decent mileage. No vibration engine noise noticed when driving atv150km/hr. The most important part I would like to say the audio is far far better than Hyundai/Honda/Maruti Cars in premium segment. Really it matters owning a Skoda compared to the "Toys" in its segment. I loved each and ...மேலும் படிக்க

 The best car in this budget, well built, well at performance, good at mileage and best part is decent service costs.

Excellent drive quality, the silent cabin inside, full power packed 1.6L diesel engine, smoother drive even in 140+ speed, the most awesome feature I liked in Rapid is the one touch down of windows. Rapid's ground clearance is good as compared to other sedans moreover Rapid is best in its segment and its build quality makes it a Solid sedan at this...மேலும் படிக்க













Not Sure, Which car to buy?
Let us help you find the dream car

Are you Confused?
48 hours இல் Ask anything & get answer
கருத்தில் கொள்ள கூடுதல் கார் விருப்பங்கள்
நியூ ரேபிட் மாற்றுகள் இன் பயனர் மதிப்பீடுகள்
Rs. 9.29 - 9.99 லட்சம்*

based on 778 பயனர் மதிப்பீடுகள்
*புது டெல்லி இல் எக்ஸ்-ஷோரூம் இன் விலை
பயனர்களும் பார்வையிட்டனர்
3 சலுகைகள்
ஸ்கோடா ரேபிட் :- ஸ்கோடா Corporate Benefit ... ஒன
10 நாட்கள் மீதமுள்ளன
car insurance companies பிரபலம்